Vibert Wishart of Thomas Street, Kitty Georgetown was on Monday arraigned before Chief Magistrate Ann McLennan on an allegation that, between June 27 and June 29, 2017 at Buck Hall Trail, Essequibo (Region Two), he stole from the Aurora Gold Mining Company Incorporated an excavator computer box valued at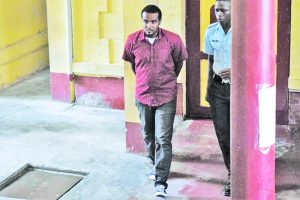 $632,000.
The 30-year-old father of three denied any knowledge of the allegation, and a not-guilty plea was entered on his behalf.
Wishart's attorney respectfully requested that he be released on reasonable bail on ground that he is willing to attend court trial to exonerate his name of the allegation.
Police Prosecutor Arvin Moore informed the court that the defendant was captured just as he was about to sell the item in the Georgetown area. While posing no objection to bail, the prosecutor suggested that same be set in a substantial amount.
Wishart was placed on $150,000 bail, and the matter was transferred before the Bartica Magistrate for continuation on August 10, 2017.