Two men who were caught on camera choking and robbing a man on Croal Street, Georgetown, were on Friday charged with robbery with aggravation and remanded. "Known character", Chris Pollard, 21, and Jamal Delph, 25, were arraigned before Magistrate Leron Daly at the Georgetown Magistrates' Courts.
They denied the charge which stated that on February 8, at Croal Street, Georgetown, they robbed 33-year-old businessman Riaz Ahmad of Foulis, East Coast Demerara (ECD), of an iPhone 6 valued $48,900, and $700 in cash.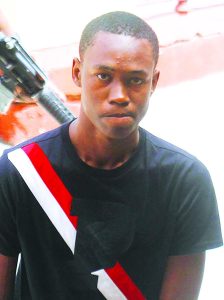 Police said Ahmad was walking along Croal Street when he was accosted from behind by Pollard who choked him, while Delph approached from the front, pushed his hand into the complainant's right-side pocket, and took out the items.
Ahmad became unconscious during the ordeal and was left lying on the ground, as the perpetrators ran away with the items. The entire ordeal was captured on CCTV and investigations led to the perpetrators being arrested shortly after.
Delph was arrested on Tuesday evening at about 22:00h at Tucville Housing Scheme, Georgetown, while his alleged accomplice was arrested the next day at around 01:00h at a house on David Street, Kitty, Georgetown.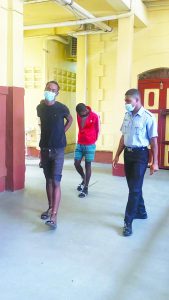 Police said that the man's phone was recovered on one of the accused. Pollard is no stranger to law enforcement. The Police prosecutor raised serious objections to the men being granted their pre-trial liberty.
Apart from highlighting that Pollard committed the offence while he was out on bail for offences ranging from robbery under arms to theft, the prosecutor noted the serious nature and prevalence of the offence, and the penalty it attracts.
In the end, the two accused robbers were denied bail and remanded to prison.
Their next court date is March 11.
Previous conviction
In November 2019, Pollard was sentenced to one year's imprisonment for robbing a man of his cellular phone. He was found guilty of the charge which stated that on September 13, 2019, at Camp Street, Georgetown, while being in the company of others, he robbed Bob Sachin of a cell phone valued at $44,000 and $1000.
The court was told that on the day in question, Sachin was walking along Camp Street using his cell phone when he was approached by Pollard and two other men who told him, "Don't do nothing before we do you something".
They then relieved the man of his valuables and escaped. The victim immediately raised an alarm and two passing Police ranks gave chase and apprehended Pollard.
Other charges
In July 2021, Pollard was charged with snatching a woman's gold jewellery and remanded to prison. The charge stated that on July 22, 2021, at the Route 47 Bus Park, Stabroek Georgetown, he stole from the person of Tenecia Dick, a gold chain valued at $70,000 – property of the said Dick.
The Police prosecutor had told the court that the virtual complainant and Pollard are known to each other. While the woman was about to board a bus, it is alleged that Pollard walked up to her and snatched the chain she had around her neck.
Dick, the prosecutor added, gave chase behind Pollard, and with the help of public-spirited citizens, she was able to apprehend him.
Then in March 2019, Pollard appeared before the Georgetown Magistrates' Courts on a charge which alleged that he stole a Samsung Galaxy cell phone valued at $44,000 from a woman. He allegedly committed the offence on February 19, 2019, at Croal Street, Georgetown.
Meanwhile, in August 2019, he was brought before the courts for stealing another phone. The charge alleged that on August 5, 2019, at Croal Street, he stole a cell phone valued at $35,000 from Saskia Pestano.
Facts disclosed that the woman was in a Route 48 minibus when the phone was snatched out of her hand. The minibus had stopped for a passenger to disembark and Pestano was sitting by an open window seat.
Pollard allegedly ran up to the minibus window, snatched the phone, and ran away. He was caught by public-spirited persons and the cell phone found on him.
Back in February 2018, Pollard was charged with stealing his father's licenced firearm. The charge against him stated that on January 28, 2018, at David Street, Kitty, Georgetown, he stole a .32 pistol, along with 10 matching rounds of ammunition valued at $252,600 from Peter Pollard.
It was revealed that Pollard, who was then 18, visited his father's home and stole the gun and ammunition that were hidden under the man's pillow. The elder Pollard, however, did not proceed with the charge. (G1)