In the occasion of International Human Rights Day, observed last Saturday, the Linden Youth Leaders (LYL) sought to spread awareness throughout Linden, with the hosting of a rally and ceremony at Mackenzie.
Following the rally which was attended by numerous students, youth and community leaders, as well as councillors, a ceremony was hosted in the vicinity of the bauxite centennial arch, where the importance of Human Rights was highlighted by various speakers.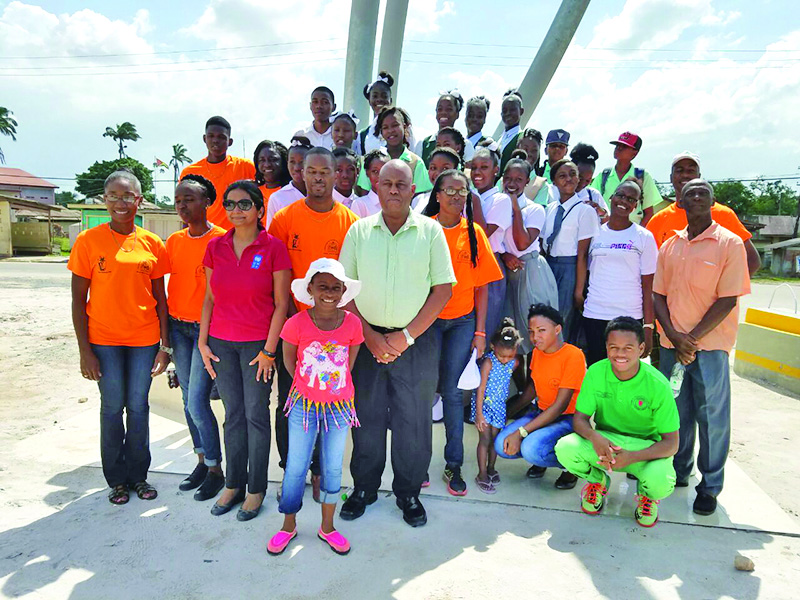 Also in attendance and delivering the feature remarks was United Nations Development Programme (UNDP) Deputy Resident Representative Shabnam Mallick accompanied by other representatives.
Mayor of Linden and founder of LYL Carwyn Holland who chaired the programme, emphasised the importance of not letting the occasion pass by without raising awareness.
"For too long we've been accustomed to allowing these days to pass without any significance to our youths…I'm particularly pleased and even more happy that the United Nations in Guyana, would have seen it fit and seen it necessary to embrace Linden Youth Leaders with this event…No longer should our youths see national holidays and significant events like this and allow it to pass by without doing something about it, and raising awareness," he said.
President of LYL Coretta Hudson also noted that as a group, the Linden Youth Leaders found it necessary to stand in solidarity with the United Nations to celebrate the prestigious day.
In her address, UNDP's Mallick noted that she was pleased to be in Linden on the important occasion of International Human Rights Day. Mallick declared that every person is entitled to certain fundamental rights:
"These rights are there for your protection against people who might want to harm or hurt you. They are also there for us to get along with each other and live in peace. When human rights are not well known by people, abuses such as discrimination, intolerance, injustice, oppression and slavery can arise…", she noted.
Through the Universal Declaration of Human Rights, Mallick coutioned that many countries have promised to uphold basic human rights but unfortunately this is not always the case, however she said many organisations try to continue to keep vulnerable people safe and healthy.
"Under Human Rights Treaties, Governments have the primary responsibility of protecting and promoting human rights. However, Governments are not solely responsible…The Universal Declaration states, 'every individual and every organ of society shall strive by teaching and education to promote respect for these rights and freedoms and by progressive measures' UNDP supports human rights for development."
Also present and delivering brief remarks were parliamentarian Audwin Rutherford and Regional Vice Chairman of Region 10 (Upper Demerara/Berbice) Elroy Adolph. Adolph in his address said that he was happy to see youths being pacesetters.
Also In attendance were students of the Linden Foundation and Wisburg Secondary and Mackenzie High schools, as well as members of the Young and Thoughtful Youth Group.