Several hire car drivers plying the Linden/ Georgetown route have on Monday staged protest action outside the office of the Linden Mayor and Town Council (LM&TC) to register their opposition to a decision by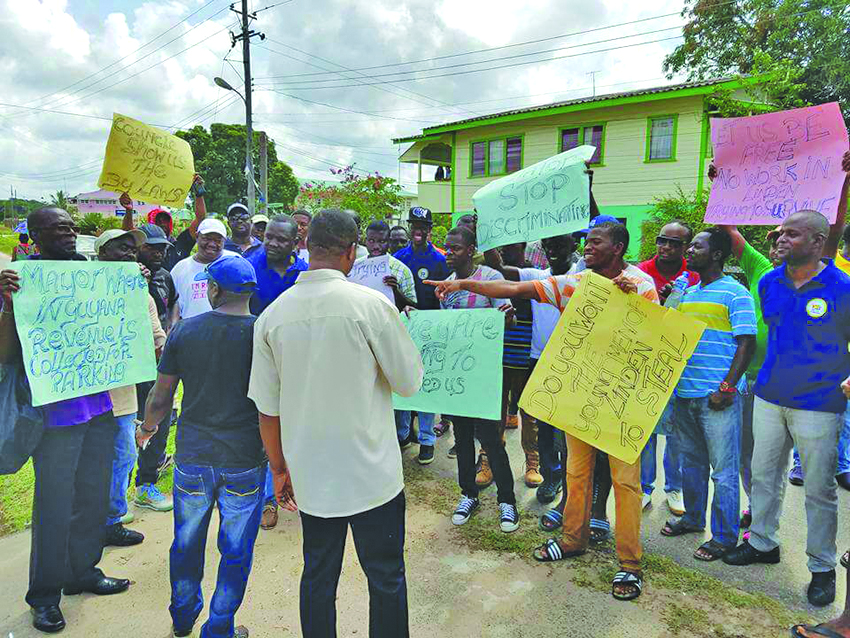 the Council to relocate them from being stationed along the Co-op Crescent roadway to the Linden/Georgetown minibus park. The decision went into effect on September 1st but the dissatisfied drivers are up in arms, hoisting placards and voicing their concerns over the move, citing issues such as safety and what they described as the "ill- prepared state" of that section of the park to facilitate them. Some drivers have also posited that the LMTC did not have the authority to move them.
Linden Mayor Carwyn Holland invited the protesters into his office for discussion shortly after the protest started, and has noted that discussions were "fruitful." He refuted claims that the Council did not have the authority to relocate drivers, and explained that after several consultations with the drivers and their association, an agreement was arrived at to facilitate the move.
He, however, said there appeared to be some miscommunication between some drivers who were not involved, and he deemed them "misguided". The Mayor said the Council, in an effort to bring order to the system of operation, facilitated the move, adding that the Linden-Georgetown park was also underutilized. He said the Council is seeking to have proper systems in place to better facilitate the drivers, such as proper separation and different entry and exit points for minibuses and cars. Holland said proper park markings are also expected to be completed today, and the Council would be ensuring security measures by having constables present to maintain order on the park. He added that the Police have also pledged to do their part in ensuring security at the location.