The Lion's Club of Essequibo Coast on Saturday installed a new Board of Directions at a simple ceremony held at Club's Den in Anna Regina, Essequibo Coast, Region Two (Pomeroon-Supenaam). The club has been in existence and has served the people on the Essequibo Coast for the past 25 years.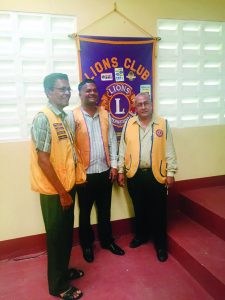 The new board members include its President, Sarvena Rampersaud; Secretary, Paul Persaud; Treasurer, Toolsiram Benny; 1st Vice President, Verna Younge; 2nd Vice President, Carmelita Laulys; 3rd Vice President, Sammy Rampersaud; 1st Year Director, Treasure Austin; 2nd year Director, Desinee Pearson; Membership Director, Reynold James; Tail Twister, Salim Barakat and Tamer, Mohamed Ally.
However, also at the ceremony, four members; three of whom were present, were awarded by the International Lion's Club for their 25 years of dedicated service on the Essequibo Coast. The chartered members who were awarded with certificates of recognition were Sammy Rampersaud, Tamesh Jagmohan and Salim Barakat. The fourth member, Bernard Younge was not present.
Meanwhile, the Club's aim is to make a difference in the lives of those in need. Thus far, only 40 per cent of the Club's health project is outstanding. Twelve projects were listed with four completed.
The group, under its health projects, is focused primarily on oral health and dentistry. The group also made several donations to the Suddie Public Hospital.
The club is also popular on the Essequibo Coast for its eye care project with the assistance of the Canadian Vision Care Team. Every two years, the team would visit the Essequibo Coast to offer free eye care services to the residents. It also distributes free spectacles to patients and also plays its role in the education sector.
Director of the Club, Shabir Singh called on members to remember their obligation to the community and to assist in the fostering of development.
"The only way to extend is to offer love and have team spirit, you need to understand that this club needs to co-exist with the community," he stated.