Mohamed's Enterprise of Georgetown, which also has interests at Bartica, has joined a number of other entities to provide sponsorship to the Bartica Senior Men's Football League.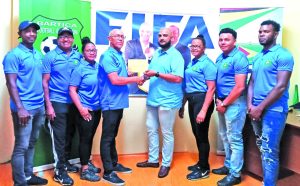 Managing Director of the company, Azruddin Mohamed, recently committed to providing the first prize for the league.
Among the other contributors to the league are the Deputy Mayor of Bartica, Money Tree Pawn Shop, Pay-it-Forward Services, Regional Chairman Kenneth Williams, and Addie's Freshener Shop.
BFA President Alden Marslowe has noted that there is still need for more sponsorship of prizes for the league, which will run until the end of July.
Earlier, Potaro Strikers put away Lazio with ease, finishing with 4 goals to 1, with a double being scored by Daniel Gardener and one each being contributed by Don Lam and Troy Parris. Brian Brown scored the lone goal for Lazio.
In the league's second match, defending champions Rivers View swamped newcomers AK Galaxy 10 goals to 1. The Rivers View boys produced the goods as follows: Andrew Simmons, 3; Kellon Richardson, 2; Godfrey Norton, 2; Antonio Jones, 2; Omareo Lake, 1. Valsenor DeFonsica scored for AK Galaxy.
Action in the league will continue on Friday and Saturday with two matches each day from 6:00pm at the Bartica Community Centre Ground.
Administrative costs for the league, which is one of nine running simultaneously across the country, is being borne by the Guyana Football Federation as part of its Members Financial Assistance Programme.