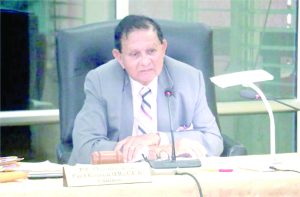 Justice Cecil Kennard, who passed away on Saturday, March 12, 2022, will have his legacy in horse racing commemorated on Sunday, March 19, with a race meet at the Kennard's Memorial Turf Club at Bush Lot Farm, Corentyne, East Berbice.
With more than five million dollars in cash prizes up for grabs, the feature race of that event will be contested over one mile, and the winner's purse would be Gy$1M and a trophy — donated by the Kennard family.
The late Justice Kennard has been described as Guyanese to the core. His
legal career spanned several decades, and began in 1962 after he graduated from the prestigious Lincoln's Inn in London and was called to the local bar that same year.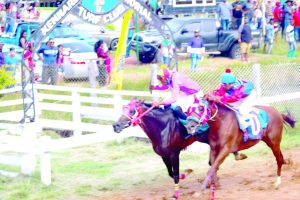 In 1965, he was appointed Crown Counsel in the Office of the Director of Public Prosecutions (DPP), and after Guyana became Independent in 1966, he continued in that office as State Counsel.
Justice Kennard also served as Legal Adviser to the Guyana Police Force (GPF) from 1971 to 1973, during which time he also acted as a rent assessment magistrate on a part-time basis.
After spending a number of years in Antigua, prosecuting a number of high-profile cases there, Justice Kennard returned to Guyana in 1977, and was appointed a High Court Judge. In June 1985, he was appointed a Justice of Appeal, followed ten years later, in January 1995, by his appointment as Chief Justice.
In 1996, he was awarded the Cacique Crown of Honour (CCH) for distinguished service in the area of law, and was, in that same year, appointed Chancellor of the Judiciary.
Justice Kennard had also served as Chairman of the Police Complaints Authority until 2017.
Other races billed for March 19
There are five other races on the March 19 card. Those are: The G & Lower – to be run over seven furlongs for a winner's purse of $500,000.
The J & Lower – to be run over six furlongs for a winner's purse of $350,000.
The K & L Non-Earners (lifetime) race – to be run over six furlongs for a top prize of $180,000.
The L Open event – to be run over six furlongs for a top prize of $200,000.
And the Three-year-old Maiden Class – to be run over seven furlongs for a top prize of $350,000.
The organizers have said the races would be held under the rules of the Guyana Horse Racing Authority. In the event there are less than five horses entered for any race, the club reserves the right to cancel or reframe that race, or reduce the prize money, after consulting with horse owners.
An owner must pay at least $5000 for each of his horses entered in a race. The names of the horses not paid for would not appear on the official programme, nor would they be allowed to participate in the race.
Five horses must start a race before the third-place prize becomes payable, and seven horses must start a race before the fourth-place prize becomes payable.
In any race in which only four horses participate, the prize money would be reduced by 25%. And if only three horses start any race, the prize money would be reduced by 40%.
Horses can be entered by contacting Dennis Deoroop on 640-6396, Jingo Jagdeo on 618-7278, Basil Bactawar on 661-7815, Fazal Habibulla on 657-7010, or Ivan Dipnarine on 331-0316. (Brandon Corlette)