…as UncappeD Marketplace Expo 2019 deemed successful
The UncappeD Marketplace exposition 2019 has been deemed a success by sponsors and Government. This brainchild of the Guyana Manufacturing Services Association (GMSA) saw hundreds of patrons at the Guyana National Stadium on Sunday and allowed exhibitors to showcase and sell the products, all locally made.
Speaking with Guyana Times at the event, Business Minister Dominic Gaskin said that the event is in its third year and continues to get better.
"I am very, very pleased to be here and to walk through and actually see the progress that the local producers have made over the years in their products and their display and their packaging, their labelling and in their enthusiasm for actually selling their products, the confidence that they have that this is a good product, you try it. It is very good…the quality of packaging, I think three years ago a lot of things were in plastic bags with a little printed thing pasted on to it, a whole lot more professionally packaged products, now they can stand next to any imported product on the shelf in our local supermarkets," the Minister said.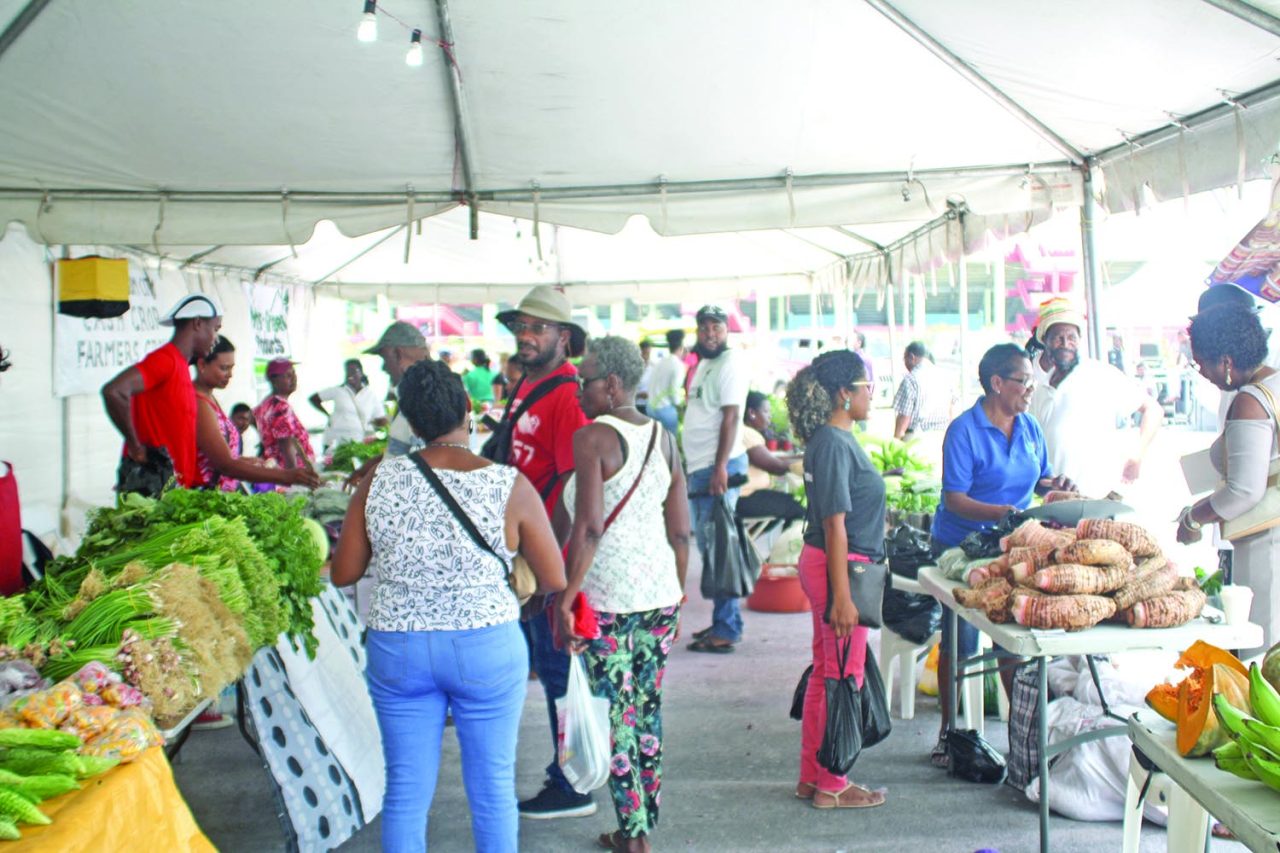 He stated that these are all very positive steps for local producers to take and now the next stage is for them to begin accessing more export markets instead of sticking to the local one.
Export market, he noted, is not easily gained but "we want, as a Government, to work with them, work with the Private Sector, the GMSA, who has really brought it to what it is today. We would like to continue working with them and see how we can encourage some of these producers to get their markets out of Guyana. It takes a lot of work but I have spoken to a number of them, some of them are already exporting, speaking with businesses outside of Guyana to market their products, so the will is there".
He noted that the local producers need "some encouragement" to continue and make the necessary commitment in pursuing international markets because the domestic market (in Guyana) is not big enough for the "real growth and development" needed in the country's agro-processing sector.
"We have to export and this is a very good start. The UncappeD programme, I have nothing bad to say about it. It is an excellent programme," Minister Gaskin added.
Meanwhile, Senior Director of Public and Government Affairs at ExxonMobil, Deedra Moe told this publication that her company is proud to be a sponsor of the UncappeD initiative once again in partnership with the GMSA because the oil giant company believes that it is important not only to do business and develop the natural resources in Guyana but to also be a member of the community.
"So we hope that this type of initiative continues to highlight the wonderful small business owners that are here and help them to actually build capacity and work together and network and continue for others to be able to support the locals. This is the third year it has been in existence… there seems to be a continuing growing interest. This time I see more plants and fruits and vegetables, a variety of different things, jewellery, so it is just not kind of like bar-b-que sauces and the spices, it is kind of pretty robust across the board," she added.
One exhibitor, Jennifer Spencer, of the Women's Agro-Processor Development Network Group that represents a number of groups spearheaded by females in the agro-processing field, stated that she was more than pleased with the turnout at the event on Sunday.
"We're basically participating because we still want to bring awareness, about local products and the benefit of using it. We participated in all the UncappeD before. It has been so successful for all of us, well to the point where we got new clients every time."
Another exhibitor, who had a wide array of flowers for sale at UncappeD Marketplace 2019, Patricia Chin, told this publication that such an initiative is the perfect opportunity to showcase what Guyanese can do and offer to both locals and the international community.
"On display, we have ornamental plants, kitchen herbs, some fruit trees, cacti, succulents and we have soil, the different types of soil that you use in the different types of plants. So we can focus on caring the flowers and plants so we can restore the garden city. It's a good event," she added.