NBS wrongful dismissal case
–
after plaintiff waited nearly 6 years for decision
Senior Counsel (SC) Edward Luckhoo who represented former Chief Executive Officer (CEO) Maurice Arjoon in the High Court case against his former employer, the New Building Society (NBS), is hopeful that Arjoon will soon be paid the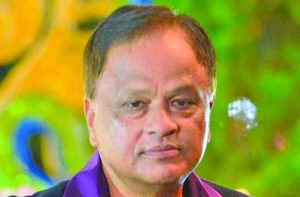 required compensation.
Earlier this week, presiding Judge Brassington Reynolds ruled in favour of Arjoon, who sued his former employer for some $550 million in damages on grounds that he was wrongfully dismissed from his post and for withholding his pension and other benefits.
In a brief interview with Guyana Times on Wednesday, SC Luckhoo related that he has submitted proposals to the Court regarding how much his client should be paid in compensation. It is now left to the Court to compute the amount of damages Arjoon must be awarded. This publication, however, understands that counsel for the respondent, NBS, Ashton Chase, SC, can lodge an appeal against the determined amount.
Reports surfaced that the Court was expected to provide a computation of the payments on Tuesday. Responding to concerns over the delay, Luckhoo reasoned that standard court procedure could be responsible for the hold-up. Arjoon, who is reported to be sick, was waiting for the High Court's decision for almost six years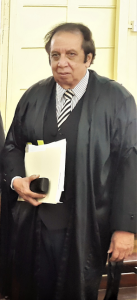 before Justice Reynolds ruled in his favour on Monday.
The former CEO was fired over a decade ago in a matter that stemmed from the Magistrate's Courts, where he, along with Operations Manager Kent Vincent and Assistant Mortgage Manager Kissoon Baldeo, were all accused of conspiracy to defraud the company of $69 million. An investigation claimed that the fraud was committed in 2006 and the men were fired the next year after it was determined that they were at fault for dereliction of duty, negligence and/or serious misconduct.
However, the matter was subsequently dismissed owing to insufficient evidence at the lower court and in 2011, Arjoon had taken his former employer to the Supreme Court to be paid what he believes is owed to him. But the matter dragged on for over five years and was listed for decision on November 29, 2016. It was only after repeated media reports that the Court handed down its ruling on July 17.
In Monday's ruling, Justice Reynolds, in effect, indicated that Arjoon suffered as a result of his wrongful dismissal from the NBS. As such, it was stated that the former CEO should receive financial compensation. Justice Reynolds also explained that Arjoon was entitled to his pension and severance benefits in accordance with provisions as stipulated in the laws of Guyana.
While the Court did not say what this figure should be, the plaintiff's Attorney expressed that the Court should make the calculations rather than leave it up to the opposing side. The respondent's counsel concurred. The High Court has awarded Arjoon some $200,000 in court costs.
According to the facts of the now dismissed 10-year-old fraud case, the NBS had stated that an unauthorised withdrawal of nearly $70 million was taken from an account that Bibi Shamina Khan held.
The financial institution's issue with the withdrawal was that it was made through a Power of Attorney and so determined that Arjoon was at fault by way of serious misconduct. However, in the court's view, the NBS failed to provide evidence that supported its claim of misconduct, whether serious or otherwise.
Worthy of note is Arjoon's contention that he was set up on the fraud allegation as a result of his alleged refusal to approve the lending of some $2 billion in 2006. Arjoon claimed that it was later that same year that the investigation was conducted into the fraud allegation in which he, as CEO, and others were implicated.