–
genuine display of unity
By Indrawattie Natram
Even today, I get really anxious whenever I hear the masquerade drums through the streets or even from a distance. The sounds emanating are uniquely upbeat and evokes childhood memories. I can vividly recall my first encounter with a masquerade band when I hid under my bed, waiting for my mother to tell me when the band passed. I could remember having scary nights after the "facey vampire" pulled me out from under the bed. The sweat ran though my spine and tears cascaded from my eyes, yes I still remember those good olden days and am sure many other Essequibians share the same memories like I do. I am sure they will also agree with me that a Christmas without the "mad cow" is definitely
incomplete.
Although the tradition is not as alive as previous years, the memories of the horrific mad cow's experiences still live amongst us. My attraction to the boom-boom sally was also vivid; a man in a dress with a protruded butt, his antics something to behold.
Today when I see a masquerade band, I am still mesmerised by their presence. I am also happy that the culture has remained strong, particularly during this season of Christmas. I was also happy to see children from various communities moving around, keeping the masquerade feelings alive.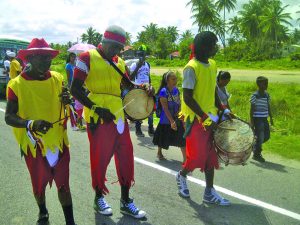 Growing up in the country, older boys become part of a masquerade band in every Village, while individual groups do not only play for fun in keeping with the festive Christmas season, many capitalise on the incentives garnered from performing.
The masquerade band could be dated as far back as the 18th Century. In fact, it was originally practised by slaves; the jollification after hard work. This practice transcends generations.
However on the Essequibo Coast, a multicultural Region, masquerade celebrations are common in villages such as Henrietta, Danielstown, Dartmouth, Onderneeming, Queenstown, Charity and Supenaam.
It's definitely a scene to behold, men (old and young) take pride in creating their costumes weeks before the season commences, and even young boys would be seen moving from house to house with their "mad cow" seeking monetary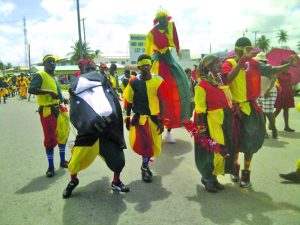 incentives for their efforts.
Masquerade has certainly become part and parcel of the Christmas season and more and more persons are enjoying the tradition, joining the bands passing through the streets. Christmas in Essequibo is nothing without masquerades.