A resident of Princeville, Mahdia, Region Eight (Potaro-Siparinu) who was on the run from law enforcement for 17 years after allegedly committing a murder, was on Thursday charged and placed before the court.
Phillip Edwards, 39, appeared before Chief Magistrate Ann McLennan at the Georgetown Magistrates' Courts and was not required plead to the indictable charge of murder.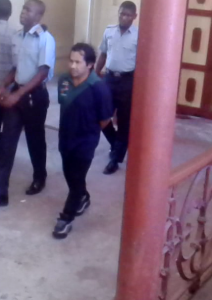 It was alleged that on May 3, 1999, at 7 mile Mahdia, Edwards murdered David Ramcharran.
Edwards was nabbed a few months ago by Police Officers on a charge of unlawful wounding. It was that charge that led to the discovery of the murder charge.
The defendant was sentenced to six months imprisonment after he pleaded guilty to the charge of unlawful wounding.
While Edwards was serving his sentence, Police were in the process of wrapping up their investigations into the offence of murder before placing him before the court.
It was revealed that on May 3, 1999, Edwards and Ramcharran were drinking at a shop where an argument occurred that resulted in the defendant stabbing the now dead man.
Ramcharran succumbed to his injuries while he was being rushed to a nearby hospital in Mahdia.
The matter was transferred to Mahdia Magistrate's Court where Edwards will make an appearance on January 17, 2017.