THE LUSIGNAN GOLF CLUB…
The Lusignan Golf Club — Guyana's only golf club — continues to grow from strength to strength, with several big corporate entities coming on board in support of the club's programmes. Among those supporters are the Machinery Corporation of Guyana (Macorp), the Marriott Hotel, and oil exploration giant ExxonMobil.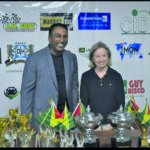 With the AGM of the LGC impending, Club President Aleem Hussain is confident members would continue investing their trust in him to lead them into the future.
He detailed that, during the past two years, the sport of golf has seen a dramatic increase in the number of events being held both on and off the course, concomitant with the number of members participating.
Major contributions from Macorp have greatly assisted in development of the grounds, and allowed more playing days than ever before.
The LGC has seen tremendous progress and growth over the past two years, with more sponsors contributing (230%), events occurring (140%), and members participating than at any other time in the club's history.
Individual membership increased by 36%, corporate membership increased by 40% and associate membership increased by 56%. This means that the revenue from membership will now cover almost 50% of operating expenses, up from just 22% in previous years.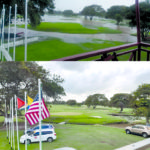 Hussain told Guyana Times Sport, "If we (current executives) are elected in the next AGM, which is set for the next 30 to 45 days, then we have some plans that we want to execute. We will add more (facilities) to the club: swimming pools, tennis club; we have plans to host 65 events at the club; host other sporting activities at the club, such as archery; and (there will also be) a focus more on youths as well.
"None of what we have been able to accomplish has been possible without our sponsors, who have helped us elevate the game of golf in Guyana. Because of this, they have begun to confirm dates for activities in 2020."
Some of the entities that have thrown their support behind the LGC are Macorp, Guyana Marriott, Toolsie Persaud, COPA Airlines, Panko Steel Fabrication, Bulkan Timbers, Oddessy Transport Services, Comfort Sleep, BM Soat, A. Ahmad Hydraulics, New India Insurance, Progressive Auto Rentals, IMON Wireless, Steve's Jewellery, Trophy Stall, ANSA McAL, Sissons Paint, Chetson's, Oasis Café, ACH Inc., Banks DIH, CIDI (Blue Waters), Nayelli Salon, AR Printers, Giftland Mall, Guyana Beverages, New Trend Auto, West Indian Sports Complex, Pulse Entertainment, Southland, Massy Group of Companies, ModFin Spa, Gafoor's, Ganesh Parts & General Store – Bridgestone, El Dorado (DDL), and NexGen Global Marketing Services.