Chief political parties contesting the upcoming March polls turned up in their showstopping manifestation to celebrate Mashramani throughout the streets of Georgetown, as the golden jubilee anniversary was rejoiced with grandeur and excitement.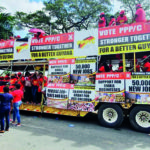 On Sunday, the Republic Day celebration embodied the true Guyanese culture, with the Golden Arrowhead flying in its glory throughout the entire parade. Masqueraders, revellers and patrons all unified as they made their way throughout the Mash route, accompanied by inviting Soca music blasting from afar.
This year, one of the contesting parties, the People's Progressive Party/Civic turned up in their numbers, sporting the expected red, yellow and black colours. The band, comprised mainly of youths, encompassed some of their plans for Guyana as elections near, with just one week remaining.
Atop the structure portrayed the lead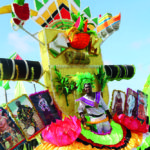 ership of their Presidential Candidate, Irfaan Ali; Opposition Leader, Bharrat Jagdeo and Prime Ministerial Candidate, Mark Phillips. Senior officials were seen interacting with citizens as they passed through the route.
The A Partnership For National Unity/Alliance For Change (APNU/AFC) coalition also mobilised their supporters, as they also traversed through the streets with drums and other items indigenous to Guyana.
Guyana Times would have visited the centre of attraction at Vlissengen Road, where scores of patrons turned up with their families in the early morning hours, setting up their spot for the day and eagerly awaiting the time when the first float would come.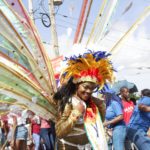 However, spirits were soon dampened by light showers of rain, which soon drifted away, reviving the celebrations once more. There, children stood on the sidewalks with their parents, peering to get a glimpse of the spectacular scenes which awaited them.
Finally, after the midday hour, the Social Cohesion Ministry's band kickstarted the excitement of a traditional Mashramani parade, with revellers perfectly dancing to popular patriotic tunes. As Soca music filled the air as well, they caroused their bodies to the beats of the melodies.
Speaking with this publication, Social Cohesion Minister, Dr George Norton stated that the enthusiasm was exactly as he anticipated, and also indicated that he was enjoying the festivities.

All decked out in a traditional Indigenous headdress, he said, "What I can certainly say is that I am enjoying myself and the vibes that we're actually getting from the people, the spectators are actually enjoying themselves. And of course, the music is there to suit."
Permanent Secretary of the Ministry, Melissa Tucker detailed that their band was a whopping 250 strong and is circled around the idea of building new relationships. It was indicated that culture, youth and sports are 'vessels' for social cohesion.
This year, the creativity was beyond expectations, with towering floats being drawn by energetic revellers and well-decorated costumes which personified patriotism. Coupled with their individual moving bands, the vibes of Mashramani was once again relived.
The Guyana Water Incorporated (GWI) was one of the bigger floats on board the procession, educating the public on the disadvantages of littering the waterways. Special emphasis was also placed on extending the reach of its services to the hinterland communities.
Public Relations Officer, Leanna Bradshaw indicated, "Our main float is depicting equity between the hinterland and coastland. The coastland have access to water running through their taps and we're trying to do the same thing on the hinterland."
Jermain Lewis, a reveller from the GWI band stated that it was his first time at the parade and also shared, "So far, so good. I'm enjoying myself."
Along the parade route, many patrons took the liberty of adorning themselves with the colours of the national flag, insisting that the golden jubilee was an important milestone for the country. Others chose to join in the dances while some opted to capture all the happenings with their cameras.
At strategic locations, vendors also took the opportunity of capitalising on sales, with the availability of authentic Guyanese cuisine on sale.
Georgiana Williams took in the festivities from the sidelines and told this publication that she never misses the parade.
"It's very nice. I came out with the whole family, everybody, my two grandsons. Every year, we never miss it…I look forward to the colours and the nice floats and thing."
Sheena Carter was also among the hundreds of spectators and she expressed, "It's nice. We're enjoying it so far. The floats are nice and unique this year."
Overall, this year saw a sprinkle of tourists, embracing the multiculturism that we call Guyana.
Coming all the way from New York, Alencia Ogle said she was intrigued by the costumes and is waiting to return to her country to gush about all the experiences.
"I'm loving it so far. It's like nice vibes out here and it's a bunch of people getting together and I really like it. This is actually my first experience at Mashramani. I like everyone coming out and supporting each other and being one. I'm telling everyone at school when I get back," she said.
Republic Day, commonly referred to as Mashramani, marks the date when Guyana gained its Republic status from which the Constitution of Guyana came into effect shortly after.
On August 29, 1969, the resolution was passed in Parliament that Guyana would become a Cooperative Republic on February 23, 1970. The theme for Mash 2020 is "Guyana Together; Reflect, Celebrate and Transform"