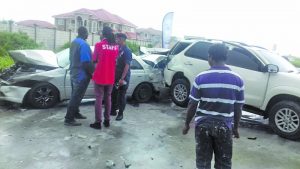 One day after a vehicle assigned to the Mayor of Georgetown Ubraj Narine slammed into three other vehicles along the Turkeyen Public Road, one of the drivers succumbed to his injuries while receiving medical attention at the Georgetown Public Hospital.
The dead man has been identified as 53-year-old Mitford Cambridge of Middle Walk, Buxton, East Coast Demerara (ECD). Based on information received, the man took his last breath on Wednesday afternoon.
The Mayor was not in the vehicle at the time of the smash-up but the driver, Joel Bond, told traffic ranks that he fell asleep, causing the vehicle to collide with the concrete median and subsequently into three parked vehicles in the vicinity of MovieTowne.
Cambridge was reportedly sitting in his car at the time of the accident and would have sustained severe bodily injuries. He was picked up and rushed to the GPHC where he was admitted and remained a patient until his demise.
The Mayor's driver was also taken to the medical facility to be treated to lacerations to the head and body.
Mayor Narine departed Guyana for Trinidad on Tuesday morning to attend a Global Covenant of Mayors (GCOM) for Climate Change and Energy in the Caribbean.
Just under a month ago, seven parked cars were badly damaged as a result of a speeding car which lost control on the vicinity of Liliendaal on the East Coast of Demerara.