…porter, other occupants narrowly escape jaws of death, hospitalised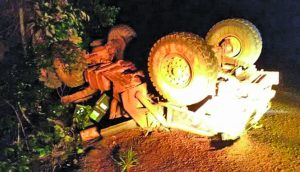 A Georgetown resident was killed on Wednesday evening after the truck he was driving turned turtle in the vicinity of Devil Hill, Lethem-Linden trail.
The dead man has been identified as 35-year-old Anil Persaud of Norton Street, Lodge, Georgetown.
Based on information received, the porter of the truck, along with two other persons who were inside of the truck at the time of the accident, are said to have sustained minor injuries and were admitted at the Linden Public Hospital Complex, Region Ten, for treatment.
Police preliminary investigations revealed that at about 14:00h, Persaud was driving the motor lorry bearing registration number BBC 9430 and upon reaching the top of a hill, the trailer, which was loaded with logs, suddenly began to descend.
As this began to happen, Persaud attempted to change gears and direction but instead, the vehicle toppled downhill.
Although the porter and other occupants made it out of the wreckage, Persaud was said to have been pinned in the wrecked cabin for quite some time.
Nevertheless, he was pulled from the mangled cabin several hours later.
Commander of E Division (Linden/Kwakwani) Linden Lord told this publication that Persaud's body was transported to the Linden Hospital Complex after which it would be taken to the Georgetown Public Hospital Mortuary where a Post-Mortem Examination would be conducted.
Investigations into the fatal accident in ongoing.
In March last, Jomal Anthony— a porter—was crushed to death by a truck at the Kara Kara Toll Booth, Linden, Region Ten. It was reported that motor lorry GSS 1407 was proceeding along the roadway when it was alleged by the driver that the porter disembarked the lorry to pay toll fees.
He subsequently jumped up on the said lorry's gas tank, situated on the left side of the lorry, whilst it was in motion. The porter reportedly lost his grip, causing him to fall between the lorry and trailer on to the roadway where he was run over by the trailer.