A man who was charged back in 2019 with fatally stabbing his cousin with an arrow, pleaded guilty to the crime when he appeared at the Essequibo High Court on Monday.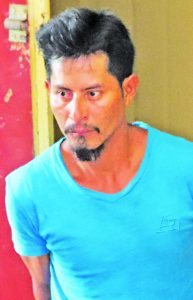 Initially indicted for the March 22, 2019 murder of his cousin, Dave Boyal, 33-year-old David Smith opted to plead guilty to the lesser count of manslaughter. The murder took place at Black Water Backdam, Cuyuni River, Region Seven (Cuyuni-Mazaruni).
On the day in question, Smith and Boyal had an argument at their mining camp. Reports state that Boyal, 19, and other workers were in their hammocks, when Smith, who appeared intoxicated, entered the camp and began cutting them down.
When Boyal intervened to stop Smith, he was stabbed with an arrow. The injured man was rushed to the Bartica Regional Hospital where he was pronounced dead on arrival. Smith will return to court on Friday, December 17, 2021, for sentencing.