Compton Delon Aaron already knows this Christmas will be one of the best ever because he has had an enormous slice of good fortune, and it all came about because he decided to make a prudent purchase.
Aaron would have taken advantage of a special offer by Banks DIH to buy two six-packs of Malta Supreme and get a free T-shirt as well as a chance in the Cop-A-Supreme free trip promotion draw.
As such, he became the first winner of the promotion—an initiative of Copa Airlines and Banks DIH. He received an award letter to that effect on December 5 in the presence of airline staff members and Banks DIH Brand Manager of Non-Alcoholic Malts, Clayton McKenzie.
He now has the incredible opportunity to choose from 80 Copa Airlines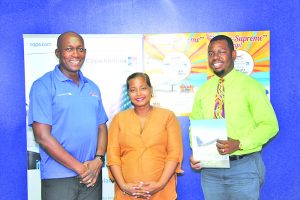 destinations to enjoy his prize with someone special.
Aaron is ecstatic. "It's … unbelievable for you to have won a competition that you can select from more than 70 destinations. So with Copa Airlines and Banks Supreme Malta, you can fulfil your dreams. So you can't go wrong supporting Copa Airlines or Banks Malta."
He applauded Copa Airlines and Banks DIH for rewarding their customers with such generosity and believed they should continue to give something back, for their customers' support.
Aaron won the first of three such drawings in December, and the companies have announced that the closing date for the competition has been shifted from December 8 to December 22. This means the second drawing will be done on December 15 and the final one on December 22.
Persons who wish to qualify can buy two Malta Supreme six-packs. The purchase entitles the buyer to a free T-shirt and an entry form which can be deposited into the boxes at Banks DIH Retail Liquor Store, Caesar's Palace and Banks DIH Cash and Carry centres at Bartica, Berbice, Linden, and Essequibo. Then, it's all up to the luck of the draw.
Speaking at the presentation ceremony where Aaron got his prize, Copa Airlines Sales Manager Nadine Oudkerk said the airline's management was delighted to be part of a promotion that gives persons a chance to fulfil travel dreams.
"We will continue to reward our customers in big ways. We wish Mr Aaron a memorable vacation and are truly pleased to be part of a dream come true," she said.