– at least 16 homeless
A midafternoon fire at Mandela Avenue Squatting Area on Tuesday has demolished two buildings and left at least 16 persons homeless. The fire reportedly started at about 14:30h in one of the buildings and quickly engulfed a second.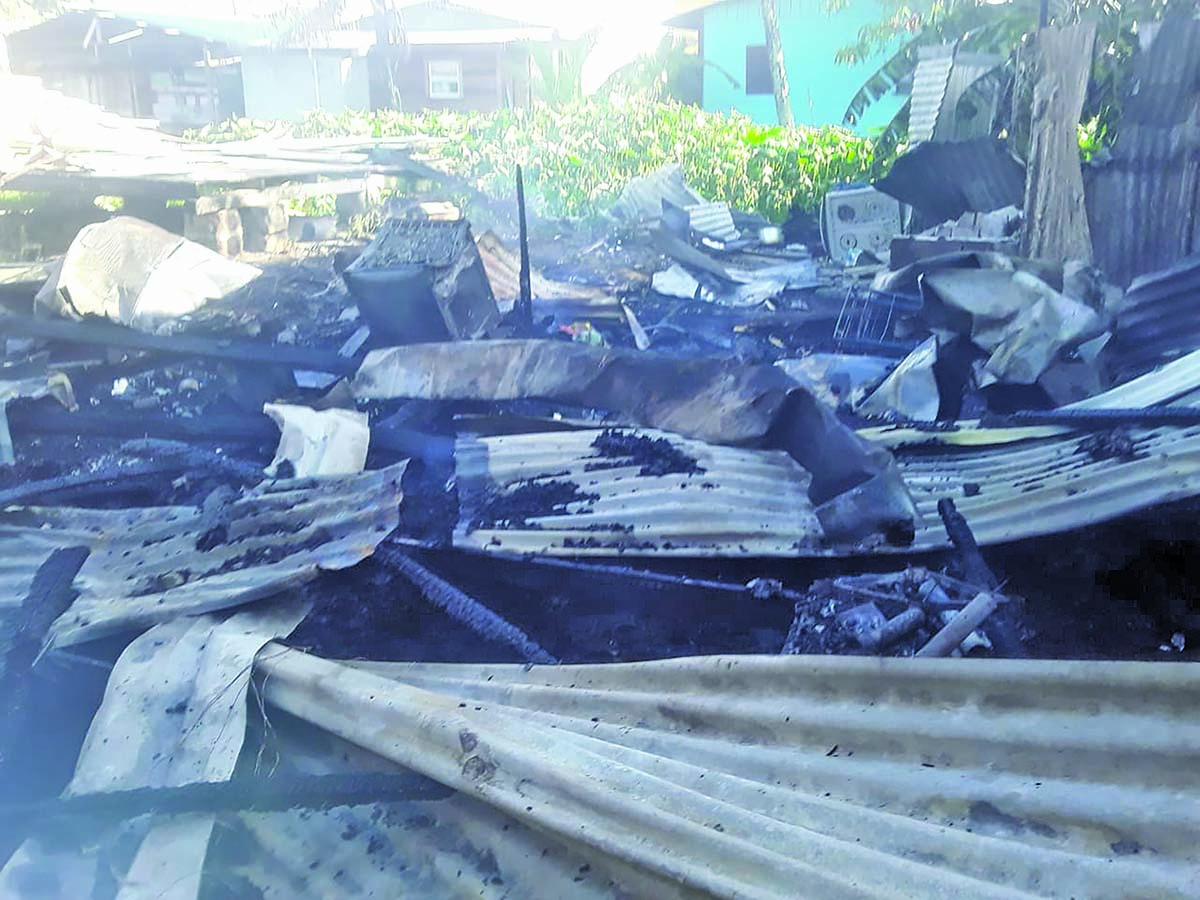 The buildings were owned by two sisters who are both Special Constables. The one-storey building was occupied by Shevon Clark, her two daughters and her 3 grandchildren, while the two-storey building was occupied by Jenelle Clark-December, her husband, six children and two grandchildren.
When Guyana Times visited the scene, Clark related that she was asleep when her sister alerted her about the fire.
"To what I understand, (the fire was started) actually by my grandson (4-year-old). My sister light a heap in the yard, and nobody knows how he get a paper and come in the house and light the mattress," Clark explained.
The woman further stated that no one was injured in the process, but she has now lost everything to the fire.
"Well, I lost actually like a million dollars, because I recently buy some things like bed and so in April wah gone, and everything gone," the woman expressed in grief.
The woman's sister, Jenelle Clark-December, was devastated and recalled how the fire started.
"About 02:30 pm going into three, we were burning garbage…then my son noticed a bright light in my sister house. He said, 'Mommy look!' When I run and go, I see the mattress light, then I start hollering. My sister was sleeping, and she hear me and she jump up. We tried to get outing it, but there was nothing we could do but come out, because the fire catch very fast.
"I could say I spent 1.5 (million), cause it's a newly built house, my entire building burn, I couldn't get to save anything, not even clothes," Jenelle stated.
Jenelle resided at the building with her husband, six children, and two grandchildren.
However, Guyana Times understands that after the fire started, persons contacted the Fire Service, and as they waited on the fire fighters to arrive, they attempted to put out the blaze, but the heat was too intense.
By the time, the fire fighters arrived at the scene, the one-storey building was already completely burnt and the second was burning. The men tried to save the building, but it was too late.
The elders who had occupied the houses are now making alternative arrangements until they can build again.
They were unable to salvage any household items. An investigation has been launched into the origin and cause of the fire.