…promises to be impartial, work with all sides for 12th Parliament to be successful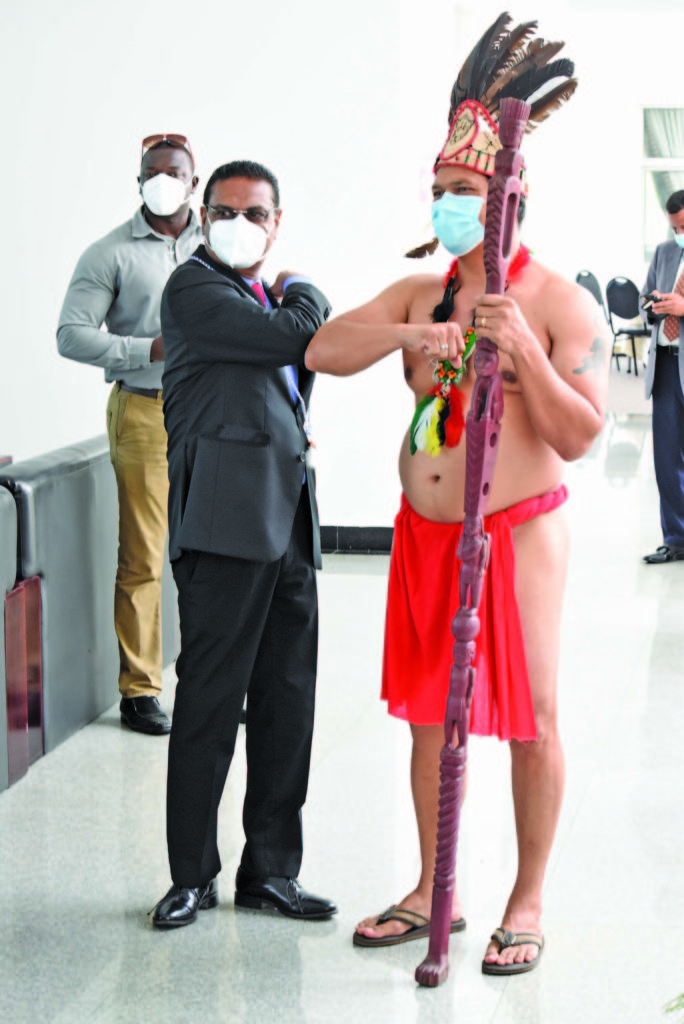 Former parliamentarian and Government Minister, Manzoor Nadir has been elected as Speaker of the National Assembly to serve in the 12th Parliament, while Joinder representative Lenox Shuman was elected Deputy Speaker.
These appointments were made on Tuesday when the first sitting of the National Assembly in the 12th Parliament was held. Due to the COVID-19 pandemic, the parliamentary sittings are being held at the Arthur Chung Conference Centre (ACCC) at Liliendaal, Greater Georgetown, to cater for social distancing among members.
Nadir was nominated by Prime Minister, Brigadier Retired Mark Phillips, and seconded by Parliamentary Affairs and Governance Minister, Gail Teixeira. No other nominations were made for this post.
Nadir served as a Member of Parliament for five terms, first being elected in 1992 as the then leader of The United Force (TUF) political party.
Nadir is an economist by profession and later served in the Cabinet of the then PPP/C Government for 10 years, during which he held the positions of Minister of Tourism and Labour from 2001 to 2011.
Delivering brief remarks at Tuesday's opening of the 12th Parliament, Nadir promised to be impartial in the execution of his duties and to work with all sides to ensure that the 12th Parliament is the "most successful" ever.
He posited that as Guyana continues to transform to a more vibrant and stronger democracy within an oil economy, it is of utmost importance that the 12th Parliament be effective, successful and exemplary.
"As we embark on the commencement on the agenda for this assembly, I'm enthused and dedicated to making this 12th Parliament one that will positively impact on pertinent issues such as constitutional reform, legislative reform and the implementation of new laws that caters for our changing realities."
On this note, Nadir, who has been in politics for some 40 years, said "I'm committed to working with all sides of the House to ensuring that this 12th Parliament be inscribed in our history as being one of the most successful ever. Having sat in this House for 23 years plus as a member both on the Opposition and Government sides, I understand the importance of this position. I promise to be impartial fair and just while upholding the laws, rules and procedures in the execution of my responsibility as Speaker of this noble House. The veracity of this noble institution must and will be uphold at all times during my tenure."
The new Speaker went on to congratulate all the first-time Members of Parliament (MPs), telling them that the responsibilities that come with membership of the National Assembly require dedication, unbiased dialogue, integrity and, most importantly, acting in the best interest in the people of Guyana – without whom they would not be there.
"When an individual is nominated by a list of electors on Nominations Day, he or she does so with the understanding that your constituents are entrusting you with their lives and their future and will rely on you to represent them by speaking on their behalf. I urge you to always be accessible to your constituents and to uphold your vows to the people of Guyana," Nadir stated.
Moreover, he told those returning parliamentarians that they must continue their resolve to make betterment for all of Guyana.
Nadir noted that while there are differences among the different sides in the National Assembly, they must all unite to ensure progress in Guyana.
He further noted that the 12th Parliament is being conducted within the times of the COVID-19 pandemic and as such, all Members must play their part in ensuring their safety and that of others including the Parliament staff.
Meanwhile, unlike Nadir's appointment, Shuman's election as Deputy Speaker was contested. While he was nominated by the PPP/C Government, the Opposition APNU/AFC coalition had also nominated former House Speaker Raphael Trotman to be the Deputy Speaker.
However, the ruling party used it's 33-seat majority to successfully elect Shuman to the post – the first Indigenous person to hold that position. This did not go well with the coalition Opposition and the MPs staged a walkout.
Nevertheless, reflecting on his appointment, Shuman said it was most appropriate given that Tuesday was also the first day of the Amerindian Heritage Month – celebrated every September.
According to Shuman, it took a long time for Guyana's first people to get there but noted that they can only move forward from here.
"Today is a historic day. It is the first time in history of this country that there's ever been a Deputy Speaker that is Indigenous; the first time that an Indigenous person walked into Parliament traditionally attired," he noted.
Shuman, who has become known for adorning his traditional attire to various important events in Guyana including the court, attended the opening of the 12th Parliament similarly dressed.
"The hope is to be able to inspire the young people and all of you to not walk away from your identity. We should be proud of who we are regardless if you're Indigenous or not – any of the six peoples of Guyana plus the nine Indigenous nations," he asserted.
Like Speaker Nadir, Shuman assured that he will be working with all parties to ensure progress for all of Guyana.
"I fully intend on working with all the political parties to ensure that Guyana moves forward, not just one component or one section but all of Guyana," he stressed.
Shuman served as Toshao of Pakuri (St Cuthbert's Mission) from 2015 to 2018 and Vice Chairman of the National Toshao Council. He then entered the political scene when he founded the Liberty and Justice Party (LJP) which, through its joinder with the A New and United Guyana (ANUG) and The New Movement (TNM) parties, won a seat in the National Assembly. He is their current representative in the National Assembly.
Shuman was also recently appointed Ministerial Adviser on Civil Aviation, being a licensed pilot with a wealth of aviation experience.
An old student of the North Georgetown Secondary School, Shuman furthered his studies in Canada where he gained his piloting qualifications and experience.