The Guyana Amateur Swimming Association (GASA) will be hosting their annual Republic Anniversary event, the Mashramani Swim meet which gets underway from Friday and concludes on Sunday at the National Aquatic Centre, Liliendaal.
On the opening day of the long course meet, warm up commences at 05:30h followed by the 1500m Freestyle from 06:15h then the 200m Backstroke; the afternoon session gets going with warm up at 15:30 hrs then intense action gets underway from 16:30h with the 400 Individual Medley, 100m Backstroke and 200m Butterfly.
The penultimate day is the most hectic; the morning session starts at 05:30h then 800m Freestyle from 06:30h and unto the 200m Breaststroke.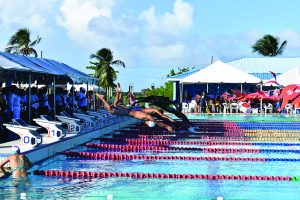 Post lunch session starts at 15:00h and includes, 200m Individual Medley, 50m Butterfly, 100m Freestyle, 50m Breaststroke and 400m Freestyle.
After the warm-up on 14:00h, the final day competition starts with the 200m freestyle from 15:00h then the 50m Backstroke, 100m Butterfly, 100m Breaststroke and the 50m Freestyle.
According to a GASA representative, the event will serve as selection for the country's team for the CARIFTA Games which will be held in Nassau, Bahamas from March 30 to April 2. It will also be used to select the preliminary squad for the Goodwill Championships in Barbados from August 17-19.