CONCACAF Nations League aftermath…
By Jemima Holmes
It seems as though Guyana's win in their final CONCACAF Nations League Qualifier match, which sealed their qualification for the Gold Cup, has done wonders for the progression of Guyanese football.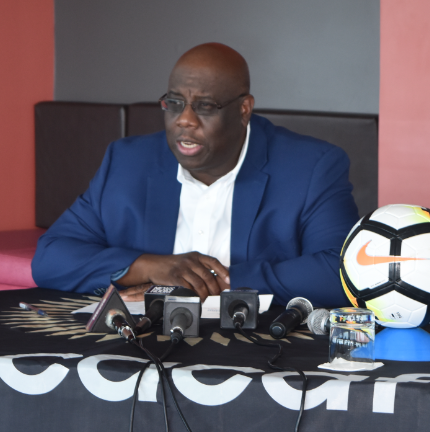 Not only does the Gold Cup win place Guyana in the same arena as football giants Mexico and the USA, but it has also opened the door for more developmental opportunities. When the dust settled after Guyana's 2-1 encounter with Belize, many thought of all the possibilities, but one CONCACAF and Caribbean Project Senior Manager, Howard Mc Intosh, confirmed those thoughts as he proudly praised the progression that Guyana has made.
"We're very pleased with what has been happening in Guyana. We're very pleased with what has been happening under the leadership of President Forde," Mc Intosh stated as he began a lengthy assessment of the normalisation period out of which the GFF recently grew.
Mc Intosh who was present in the affairs when Guyana went through this normalisation process after many issues in the Federation, firmly believes that Guyana has successfully transitioned, and is now blossoming.
"I can say without fear of contradiction, because of my experiences, that this has been the most stable period in terms of football in Guyana; definitely in the last ten years, because that's the period that I can speak to," he stated.
The CONCACAF representative asserted that CONCACAF will be willing and ready to assist the local football fraternity as long as that fraternity continues in this path. He said, "And I think the spirit I detect now should allow for continued stability, and CONCACAF is here to support it."
Mc Intosh went on to confirm the beliefs of the Guyanese diaspora and football fans that the win on March 23 has set a new standard for the GFF.
"I need to say to you that with that stability and with the successes, it means that Guyana's International reputation and the reputation of the Guyana Football Federation is now at a high. That means the expectations from CONCACAF and the expectations from FIFA will be of a high standard as well," Mc Intosh explained.
In speaking highly of the national team and the GFF, Mc Intosh in turn held President Forde in high regard, as he spoke to the President's determination to better Guyana's football infrastructure.
"We're so happy, and I am very happy to see that many of the discussions centre on football, the youth programmes, the leagues. President Forde, (in) every other conversation, he wants to make sure he has artificial pitches so that the grassroots development programmes are able to take place," Mc Intosh stated.