Action in the West Demerara cricket league continued with a thrilling 35-over match in which McGill Superstars again showed their dominance of that league when they tackled Canal #2.
However, bad light forced a halt to the game, which the Superstars would easily have won.
Mc Gill were in deep trouble early, the scoresheet reading 0-2 as both openers Ronaldo Renee and skipper Sudesh Persaud had fallen for zero at the end of two overs. Narendra Persaud had Renee caught behind, and Sidique Sulaman had Persaud lbw.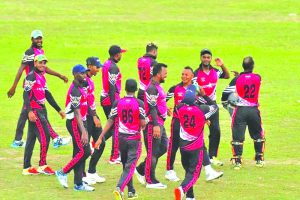 However, brothers Troy and Travis Persaud put on a 72-run partnership as they rotated the strike nicely and picked up the odd boundaries before Travis was bowled for 34 (4×4) by leg spinner Nityanand Mathura, leaving the score at 72-3 after 18 overs.
Mc Gill lost a few quick wickets: Abdul Razack for 3, caught behind off Vishwanauth Jadunauth; Balram Aron for 13, bowled by Parmanand Ragnauth; and Daniel Basdeo for 9, caught off Ragnauth in quick succession. Troy Persaud (33:3×4,2×6) tried to steady the ship before he fell, caught at long-on off the bowling of leg spinner Mathura.
Ganesh Puran then came in and played a blistering cameo of 53 not out, hitting some entertaining shots to all parts of the ground as he rallied Mc Gill to a respectable total of 164-8 in their 35 overs.
Canal #2 got off to a decent start after losing opener Narendra Persaud for 5. He was bowled by national left arm seamer Daniel Basdeo in the 3rd over, when the score was 17-1.
Anthony Ifill and Nityanand Mathura took the score to 76, before Ifill (38:5×4,1×6) was caught behind off the bowling of leg spinner Ganesh Puran in the 12th over.
Mathura and Loaknauth took the score to 95 before national youth captain and off spinner Travis Persaud uprooted the stumps of Mathura (15:3×4) in the 18th over, when the score was at 95-3.
Loaknauth and Chabiraj Ramcarran then joined forces, but were tied down by a wonderful spell of spin and pace combination from Persaud and Basdeo, before Ramcharran (10) was caught at deep midwicket off Persaud at 115-4 in the 26th over.
Basdeo then removed Vishwanauth Jadunauth (1), caught and bowled at 117-5. Leg spinner Ganesh Puran returned to dismiss Tejnauth Jadunauth (3) caught at cover at 120-6.
Loaknauth then retired with the score at 120-7 before bad light stopped play, leaving Canal #2 needing 45 runs from 34 balls with 3 wickets in hand.