The Georgetown All Stars and the Upper Demerara Football Association (UDFA) teams were the latest winners in the Men's Super-16 yearend football festival when the tournament resumed at the Leonora Track and Field Facility on the West Coast of Demerara.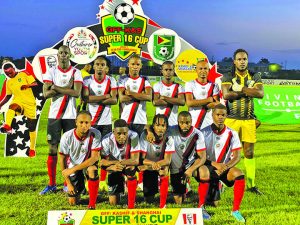 The Upper Demerara Football Association (UDFA) team on Monday night pulled of a thrilling 9-0 victory over the Victoria Kings in what was the first game for both teams in this year's Super-16 tournament.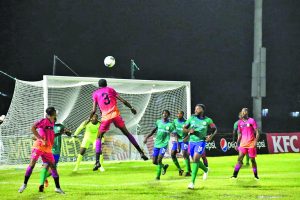 UDFA clearly meant business, as evidenced by Jamal Haynes connecting his team's first goal as early as the 3rd minute. Haynes returned in the 32nd to hammer home UDFA's second, while Deshawn Joseph found the back of the net just before the half-time mark.
Three goals were indeed good enough, but the UDFA went for the slaughter in the second segment, with Kelon Primo (49), Andre Mayers (67), Quailon Andries (77), Shane Haynes (80) and Tyric Mc Allister (86) each adding a goal to the tally. Deshawn Joseph also completed his brace as the game ended with a 9-0 score line.
Prior to that game, Georgetown All Stars survived yet another encounter, defeating East Coast All Stars 3-1. At the half, the score was locked at 1-1, as Tequan Taylor scored Georgetown's first in the 5th minute, while Eion Abel replied for the East Coast in the 9th minute.
Needing to break the tie, Stephen Alfred finally found the back of the net in the 70th minute. Shemar Welsh had a consolation goal in the 90th to ensure Georgetown's win was convincing.
Speaking with the media after the game, Alfred spoke about their preparation and his aim.
"Is two weeks we now come together. Two years now, with the pandemic, we now form weself back and try to form back the unity," Alfred stated. He added, "My goal is help bringing the Georgetown football All Star team to come through the line for success. And thanks to Father, first thing."
Alfred also touched on the competitiveness of the tournament thus far.
"So far, with the performance with the team, we went training for the past two weeks, and now we put together something with this little team. They said it's elite teams, but these All Star teams show more competitive games so far for the two past games."
The Men's Super-16 tournament will continue on Friday, December 17, with the Georgetown All Stars taking on Police FC at 6pm, and Buxton battling Ann's Grove at 8.30pm. Both games would be played at the Buxton Ground.