Twelve-year-old Martin King has won the chance of a lifetime — to train with Futbol Club Barcelona in Spain. It is a chance most adults only dream about.
King, coincidentally, was the last child to register for the Nestle Milo-sponsored Skills Tournament for children in the Caribbean.
The children were made to go through three skill sets: dribbling, short passing and control. As they went through the drills, they were judged based on skill and accuracy, and were awarded points based on their performances.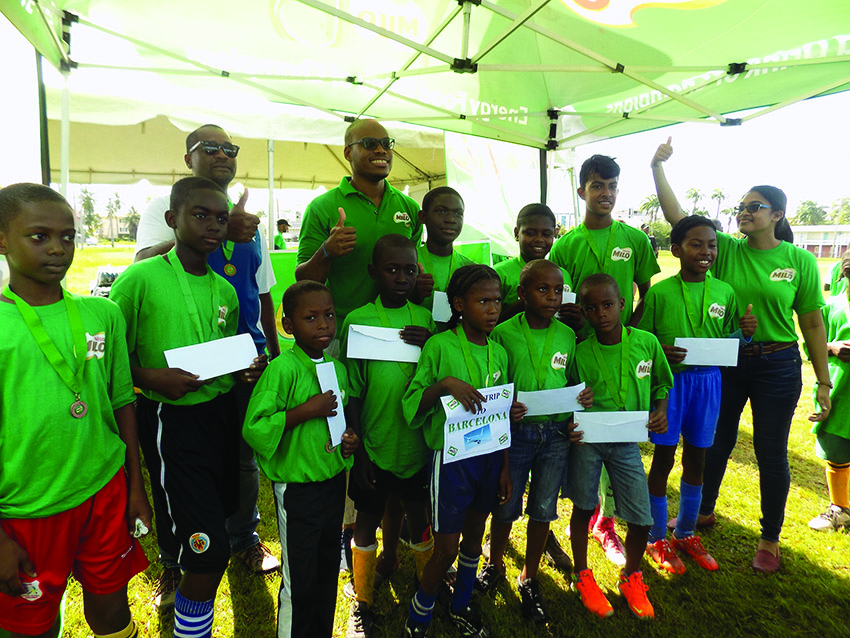 Called "Messi" by his peers, King amassed 215 points from his three skill sets, while his closest challenger, 11-year-old Renaldo Adams, scored 160 points.
The Nestle Milo Skills Tournament resulted from Nestle Milo teaming up with FC Barcelona to host the tournament, wherein five lucky children from across the Caribbean are given a chance to win a trip to Barcelona to attend a 2-day training camp with the FC Barcelona coaches.
Earlier, before the winner of the tournament was announced, Guyana Football Federation (GFF) President Wayne Forde congratulated the Nestle group for pulling off the event; and congratulated the parents of the children as he noted that "this is the kind of commitment we want to see from parents in supporting the children that have an interest in playing football."
Meanwhile, Trinidad Nestle Representative Mark Clarke has extended gratitude to the children and parents as well, while pointing out that without the GFF the tournament would not be possible in Guyana.
He maintained that the level of football skill in Guyana is excellent, as the scores of the competitors are not very different from other Caribbean countries.
Below are the list of top ten competitors of the tournament. Aside from first placed King, the others received cash prizes and Nestle products.
First Place"- Martin King (Age 12) – 215 points
2nd- Renaldo Abrams (Age 12) – 160 points
3rd- Makhaya Munroe (Age 12) – 155 points
4th- Shaquille Dalrymple (Age 8) – 140 points
5th- Keshawn Andrews (Age 12) – 140 points
6th- Daniel Lowe (Age 12) – 135 points
7th- Shane Dalrymple (Age 8) – 130 points
8th- Akeem Francois (Age 7) – 130 points
9th- Malik Barker (Age 10) – 130 points
10th- Clarence Lucius (Age 12) – 125 points