A two-storey wooden house located at Lot 36 Graham Street, Plaisance, East Coast of Demerara (ECD), was completely destroyed by fire on Sunday morning, leaving five persons including a child and an elderly woman, homeless.
The fire reportedly started at about 11:40h in the upper flat of the house. According to one of the shaken occupants who managed to escape unharmed, three people resided in the upper flat of the house, while he, along with the elderly woman, occupied the bottom flat.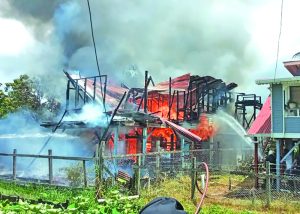 Guyana Times understands the persons observed fire emanating from the upper flat of the building and immediately alerted the occupants.
As the flames rapidly engulfed the structure, the inhabitants, who were all on the lower floor of the house at the time, ran to safety, leaving everything behind.
Sadly, they were unable to salvage any of their personal belongings and household items.
Eyewitnesses at the scene further recounted that shortly after the blaze was seen, the Fire Service was alerted and within minutes they arrived and sprang into action.
The firefighters were able to contain the blaze from spreading to nearby houses. Fire officials are now tasked with ascertaining the cause of the fire as they launch an investigation.