…as GGDMA outlines plan of action for coming year
Guyana is a signatory to the Minamata convention and, as such, has been making efforts to reduce the use of mercury in mining. Accordingly, miners and members of the Guyana Gold and Diamond Miners Association (GGDMA) have been making efforts on their own to comply with this mercury-free transition.
The GGDMA recently held its 38th Annual General Meeting (AGM), the first since May of this year, during which the association's President Andron Alphonso spoke about some of their accomplishments …and challenges.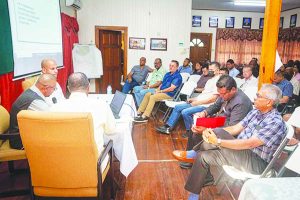 The year has seen some victories for the GGDMA. Alphonso observed during the meeting that, already, the GGDMA has been able to unlock several benefits for the miners through strong lobbying efforts and collaboration with the Government.
"The number of persons entering the mining industry is on the rise. We have seen more new entrants, both foreign and local. The industry is continuing to grow, as is our membership," Alphonso said as he opened the meeting.
Among the issues planned to be address, however, are their ongoing efforts to find a solution that would allow the industry to transition to mercury-free mining. Mercury- free mining was also a topic brought up by the miners at the meeting, with some of them urging the GGDMA to continue to lobby the Government for additional funding for mercury-free mining technology.
"Members in attendance raised concerns over the increasing malaria cases in the interior, and called on greater intervention and support from the Ministry of Health. Members also urged the GGDMA to continue to lobby Government for: new roads; rehabilitation and upgrading of existing roads, bridges and airstrips; to examine a reduction in late fees charged by the GGMC, to seek additional funding for Mercury-free mining technology, and to engage with banks and suppliers for better financial terms for the industry," a statement from GGDMA said.
Alphonso, meanwhile, outlined some of the major objectives the GGDMA would be focusing on in the upcoming year. Those include cost of production, lack of adequate infrastructure, labour shortages, the renewal of the Investment Development Agreements (IDAs) for Miners, and improved infrastructure for the mining sector.
Another issue that would be addressed by the GGDMA is the opening up of new mining lands, allowance for miners to have the option to be paid up to 100 per cent of funds earned from gold sales in foreign currency, and the removal of restrictions on the age of ATVs for which waivers can be garnered.
Administrative Manager of the GGDMA, Avalon Jagnandan, meanwhile explained that the Association has launched an initiative to support miners in need of work grounds. He informed the gathering that several mining blocks would be made available to miners of all scales to access, and urged miners to visit the GGDMA Secretariat for details.
Mercury, also known as quicksilver, is a highly toxic chemical used in mining to bind gold together. Exposure to mercury fumes affects the nervous and reproductive systems, and damages brain function.
Guyana signed on to the United Nations Minamata Convention on Mercury in 2013 and ratified the convention in 2014. Over the years, the Ministry of Natural Resources has partnered with the WWF and the Guyana Geology and Mines Commission (GGMC) to draft a National Action Plan (NAP) which would see a phased reduction of the use of mercury in the mining sector to complete elimination by 2027 through the implementation of a phased mercury reduction strategy.
The NAP captures a number of objectives and strategies as outlined in the Minamata Convention. These include mercury-use reduction; increasing the viability of small- and medium-scale mining; management of mercury waste; environmental assessment; contaminated sites; public health aspects, and public information awareness and education. (G3)