…driver denies charges
A minibus driver and conductor who were caught on video endangering the lives of their passengers on November 15, 2019 were slapped with several charges and appeared at the Vigilance Magistrate's Court.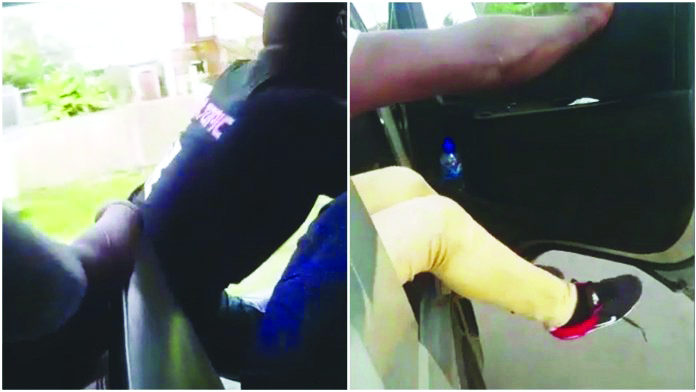 Jermaine Waldron, 27, the conductor, of Haslington, East Coast Demerara (ECD) and Trevin Bobb-Semple,28, the driver, appeared before Magistrate Fabayo Azore.
Bobb-Semple denied the charges of operating a tinted motor vehicle; untidiness; failure to control said motor vehicle; breaching the condition of his road service licence; and dangerous driving. He was placed on $100,000 bail and his driver's licence was suspended until the determination of the cases. The cases will continue on March 19, 2020.
On the other hand, Waldron pleaded guilty to inappropriate conduct; failure to ensure passengers' safety and untidiness. He was fined $40,000 for the offences.
According to Police, after the video went viral, an investigation was conducted which led to the arrest of the two men. The incident occurred on November 15, 2019, at the Strathspey Embankment, ECD while several passengers were in minibus BYY 1309.
The video, which was posted on social media, showed the minibus conductor opening the door of a moving vehicle and dancing while placing his body outside, gripping only the outer part of the doorway. In the process of this unflattering behaviour, passengers were cheering him on.
The driver of the minibus was later seen opening his door and putting both his legs outside of the moving vehicle while holding on to the steering wheel.
Just recently, the Traffic Department of the Guyana Police Force (GPF) reported that from January 1 to April 2019, there was a 20.8 per cent increase in fatal accidents and an almost 20 per cent increase in road deaths related to accidents.