The driver of a Route 42 minibus is now dead following a horrific two-vehicle smash-up along the New Hope Public Road, East Bank Demerara (EBD) early Friday morning.
Dead is 59-year-old Oswald Roberts of Lot 489 Kuru Kururu, Soesdyke-Linden Highway. Roberts was the driver of minibus BWW 2940.
Guyana Times understands that at about 06:45h, a motor pick-up truck, which was driven by a 45-year-old, Lusignan, East Coast Demerara (ECD) resident with passenger, Ashley Persaud, was proceeding at a fast rate when it reportedly lost control on the New Hope Public Road.
As a result, the vehicle began to swerve from east to west across the road and ended up into the path of the minibus, which was said to be proceeding north along the western side of the said road. The two vehicles collided head-on, causing extensive damages.
The occupants of the minibus, including the driver and driver of the pick-up, were all rushed to the Diamond Diagnostic Centre where Roberts was pronounced dead on arrival.
Passengers of the minibus: Andre King, 48; Dave Taylor, 22; Sheena Chin, 23 and Gina Chin 24; Candacie Vickerrie, 32; Glixman Adams, 69; John Cheddie, 28 and Murrissa Mc Pherson 29; Tatema Murray, 35; Cherryan Millington, 30; and T. Deolall, 42, all of Kuru Kururu, Soesdyke-Linden Highway were all treated and later transferred to the Georgetown Public Hospital Corporation (GPHC) where they are being treated for various serious injuries.
The driver of the pick-up was transferred and admitted to the Mercy Hospital where he is being treated for abdominal trauma, while his passenger, Persaud, is being treated at the same hospital for a fractured right arm.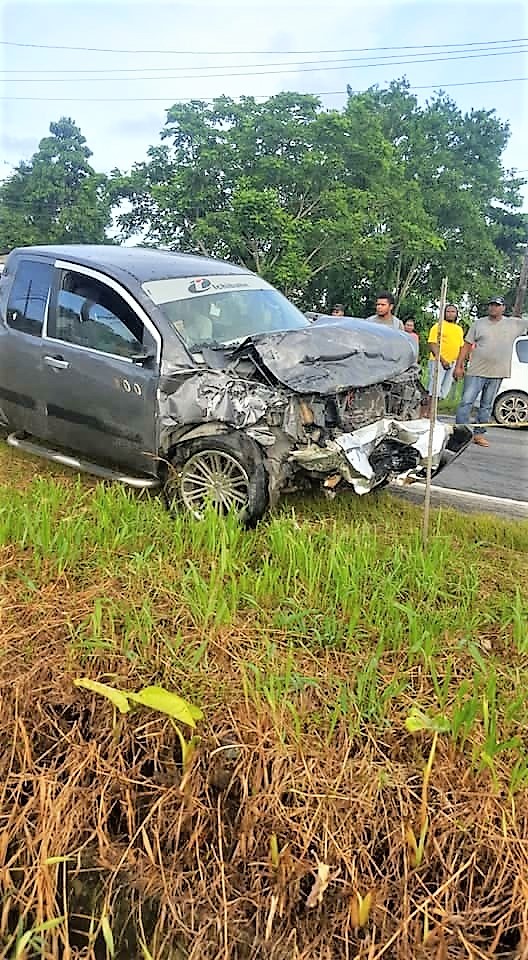 Speaking with Guyana Times, the dead man's wife, June Roberts, said that she last saw her husband when he left for work at about 06:00h. The grieving woman explained that at about 07:00h, she received a call from a friend who informed her that Roberts was involved in an accident.
The woman revealed that she rushed to the scene of the accident and later to the hospital.
"When I got there, the hospital was packed with the other accident victims so they did not let me go in right away to see my husband. But after they send the other people them away to Georgetown Hospital, then I got to go in and see he. He did just lay down on the bed," the woman painfully explained.
The now dead man, who is described as a jolly person, leaves to mourn his wife along with four children, relatives, and friends.
The matter is being investigated. (Kizzy Coleman)