The peaceful candlelight vigil hosted by the People's Progressive Party (PPP) to voice its concerns over Government's move to evict the Cheddi Jagan Research Centre from Red House was marred by a protest by a group of People's National Congress Reform (PNCR) supporters who were led by the Social Protection Minister Volda Lawrence.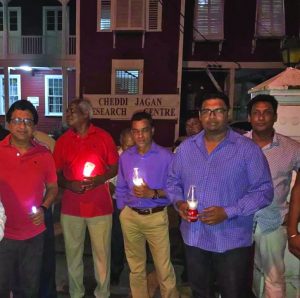 The activities occurred outside of Red House, Kingston, Georgetown around 19:30h on Friday.
A number of PPP supporters stood in solidarity outside the compound, chanting and upbraiding Government's plans to revoke the Red House lease.
In what appeared to be a counter vigil, a group of PNCR supporters stood alongside the PPP supporters to defend the Government's decisions.
Lawrence, also PNCR Vice Chairperson, contended that the Red House premise was State property and that the Government had a duty to ensure the land is returned to the State.
Meanwhile, the PPP described the decision by the Government as the most callous action taken by any President in the history of modern-day politics and flies in the face of the A Partnership for National Unity/Alliance For Change claims of forging a climate of peace, tolerance and national reconciliation.
"This latest action by President Granger is not only an assault on the legacy of Dr Jagan but one that is highly provocative, vindictive, insensitive and divisive," the Party expressed in a statement to the media on Friday.