Minister of Social Cohesion, Dr. George Norton, on Thursday met with members of the Guyana Ex-Athletes and Friends Association to discuss the holding of three massive track events during the Independence weekend.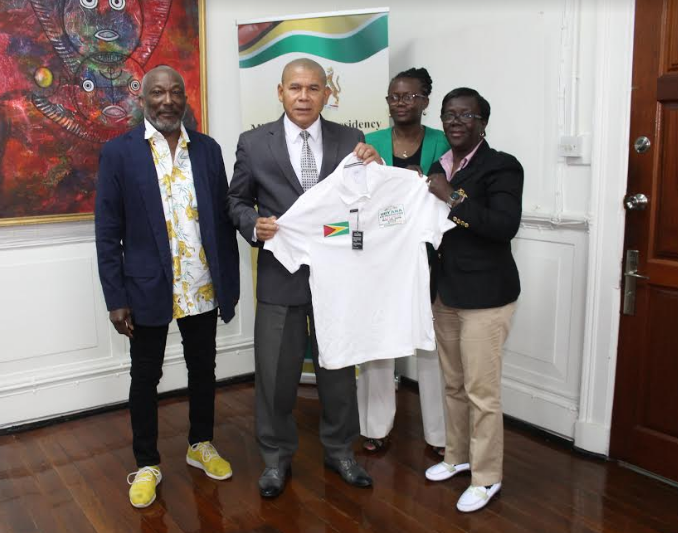 The meeting was held at Minister Norton's Main Street Georgetown office, and the attendees comprised three of the association's five executives – Burgette Williams-Forde, Deborah Quamina and Noel Campbell. The other two members of the association are Kenrick Smith and Veronica Franklin-Simon.
Also attending the meeting was Inspector Amanda Hermonstine of the Athletics Association of Guyana (AAG).
The weekend of activities, which is being hosted in partnership with the AAG, will kick off with a 'One-Mile' race scheduled for Saturday May 24 from 06:00hrs (6am), and will see children of the Plaisance/Sparendaam area racing through the streets of the two villages.
Children below the age of eight are expected to participate in a 400-metre run, while those from nine to 18 years old will be eligible to participate in the One-Mile race.
At 17:00h (5pm) that Saturday, the 5K/10K Race will begin at the GNS Ground on Carifesta Avenue and turn back at the University of Guyana, from where participants would head back to the starting point.
On the evening of Independence Day – Sunday May 26 — athletes will meet at the Leonora Track and Field Stadium, West Coast Demerara, for a grand Relay Festival. Minister Norton has been informed that a total of sixteen events are planned for the relay programme.
Former athlete Ms. Williams-Forde has commended Minister Norton and the Department of Sport for the developments taking place in that sector.
"Simple things like those parades to welcome home our athletes competing at the Junior Carifta Games go a very far way in not only inspiring young talent, but also support for them as well," Williams-Forde said.
Dr. Norton, who also holds responsibility for Culture, Youth and Sport, lauded the group for its efforts in providing Guyana's young athletes with more avenues for competition.
"The Government cannot do it alone, so I am very happy to see that the diaspora recognises the importance of sports and is willing to throw (its) support behind it," Dr. Norton has said.
Among the first athletes to have competed at the Carifta Games, Noel Campbell has noted that while the association consists of former national athletes of Guyana, it has the support of many persons.
"We have many overseas-based Guyanese who are not even athletes but they understand the benefits of sports and want to support it," Campbell said.
In addition to hosting the Games, the association will also be distributing in excess of 60 pairs of spiked running shoes.
Following the engagement, Minister Norton was presented with a customised shirt to wear should he attend the events.