Weeks after cattle farmers from Region Five (Mahica-Berbice) raised concerns over the issuing of new leases by the Mahaica-Mahaicony Abary-Agricultural Development Authority (MMA-ADA) to lands which they utilised, there has been no response from the organisation.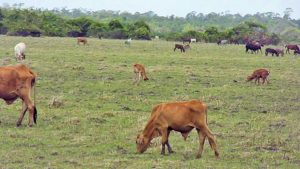 The concerned farmers told Guyana Times that they are still awaiting a response to know whether consideration is being given for them to access the land.
Speaking with this publication, Krishna Sookdeo stated, "We hear nothing so far. After the injunction, the people didn't get to go back into the land but there is no case up to now. They didn't say if they will give us our land or a part of it. Right now, we are worried that they could take it away tomorrow and nothing we can do".
The MMA-ADA had evicted several cattle owners from lands. The area, located at Blairmont, covers 1360 acres and had been used by farmers to rear hundreds of cattle.
However, the farmers received a notice from the agency earlier this year, indicating that they have to vacate the lands since new leases were issued to other persons, some of whom are not even cattle farmers. Without the lands, their daily operations will be severely challenged.
Sookdeo had initially told this publication they would constantly apply for leases to be granted. However, during the next engagement, the Authority would advise them to reapply since those documents could not be found. Receipts seen by Guyana Times demonstrate that payments were made by all of the farmers for lease applications, some dating back years ago.
Another farmer, Pooran Balmukund, had also explained that a permit to conduct cattle grazing was also issued with the notice but upon visiting the agency, they were told the document was irrelevant. As such, it was mandatory for them to vacate.
"MMA just serve us a notice to remove from the land. They also give us a paper with permission to graze cattle. When we went at MMA, the paper had no value. They told us this don't have no value anymore," the man stated.
Many of them cried that their only means of earning a livelihood is at stake. Over the years, the farmers have developed the lands, establishing pastures and constructing fences around the property. It was explained that they have no vacant property to relocate the animals and if new persons are given access to the lands, the structures will be demolished.
On Sunday, People's Progressive Party (PPP) Member of Parliament, Harry Gill in a letter to the editor said that in Region Five (Mahaica-Berbice), lands that were used by cattle farmers of the Shieldstown Cattle Rearer's Co-op Society in an area known as Rampoor for over 20 years, were taken away by the MMA-ADA and were allegedly given to a close associate of the Government. He also called for a full-fledged investigation into the matter.