The Management of the Mahaica Mahaicony-Arbary Agricultural Development Authority (MMA-ADA) has warned operators of tractors and trailers to steer clear from the secondary canal embankments as this may pose danger.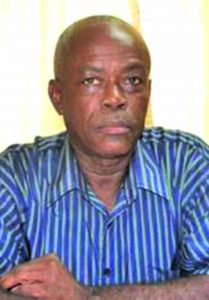 The Authority in a notice published in the daily newspaper on Monday explained that it has evidence of farmers frequently traversing this area. The agency explained, "These embankments were not designed or intended for these purposes, since the traffic can significantly reduce the freeboard and result in overtopping when the canal is at full supply level".
As such, the MMA-ADA asked that farmers desist from this practice immediately. Furthermore, it warned that persons found contravening this notice will be dealt with "accordingly".
Just a few days ago, General Manager of the MMA-ADA, Aubrey Charles, on the sidelines of a signing ceremony between the Authority and the Guyana Public Service Union (GPSU), complained that scores of farmers within Region Five (Mahaica-Berbice), who utilise drainage and irrigation services, fail to pay required charges for same, as agreed.
In fact, he signalled the Authority's intention to take legal action against such farmers.
Charles noted that farmers presently owe an excess of $1 billion for irrigation and drainage services.
The MMA-ADA official further explained that a number of farmers have recently begun expressing worries over the rapidly deteriorating state of main roadways into rice lands. But according to him, the roads cannot be fixed without monies being spent. Nevertheless, Charles made mention of the Authority's efforts to rehabilitate the roadways, given that the farmers account for over 45 per cent of the country's overall rice production.
"A group of farmers came and they met with me, and they were pointing out the deterioration of the road network. I had to inform them that the maintenance of all the drainage and irrigation as well as the roads, it cost about fourteen million dollars per month and the farmers are not paying, they're way behind the fourteen million which it costs to operate and maintain the system….So, on one hand, the MMA is trying its best so as to make the roads accessible and on the other hand, we appeal to farmers to pay their charge," he explained.
On this note, the General Manager underscored that the MMA-ADA will take legal action against the farmers to have them pay in full the outstanding monies owed to the entity. This, however, is the Authority's last choice but will be resorted to if the monetary figures keep increasing.