With less than one week before farmers in the Mahaica Mahaicony Abary-Agricultural Development Authority (MMA-ADA) Scheme start harvesting their rice, concern is being raised over the state of access of dams in the scheme.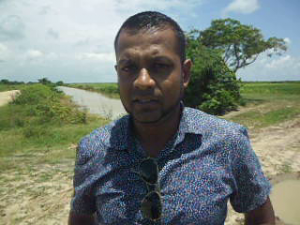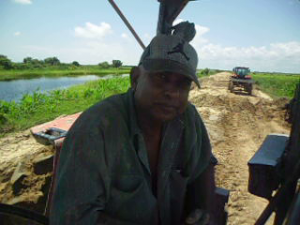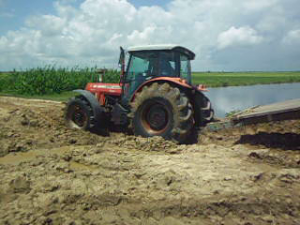 On Wednesday, some of the farmers highlighted their plight to Guyana Times.
According to one farmer, there is only one tractor in the community big enough the drive through the access road without being stuck. On the Wednesday, even that farmer told this publication that he too was having difficulties traversing on what should be an access road. Most of the small farmers have machines, which they refer to as 290 and 185 tractors.
None of those can make it through the MMA access dam. According to the farmers, it is not the entire dam which is in a bad shape. They pointed out five sections of which it impossible for them to pass over the access road. In some of those areas, the dam has deteriorated to the extent that it is now lower than the water level in the adjacent canal.
"I don't see farmers in my area, who are basically small farmers, getting into those areas to spray for paddy bugs, fertilise their crop and basic crop husbandry," one farmer related.
Regional Chairman Vickchand Ramphal blamed the MMA for the situation, saying that the agency has been paying little or no attention to what has been happening there.
"Farmers are finding it very difficult to transport their produce in and out. Also, many of them will have to visit their fields frequently because of the heavy infestation of paddy bugs. I spoke to a number of small farmers who would have raised concerns about them not having access to their fields because of the deplorable state of the Main Canal Dam," Ramphal noted.
Jamal Azees has 30 acres of rice cultivation, and for him, it is a nightmare getting to his cultivation.
"The dam is in a terrible state. Bad! This is the access dam next to the canal. It should be an all-weather road. It is just like the canal right now. You have to go into the canal to pass some places. You have to stop half-way and walk the rest. My field is about four miles from here; it took me about two and a half hours to reach here and I'm only halfway," he said.
Another farmer, Rabindranauth Saywack, has 45 acres at Hopetown, but he cannot access his fields from that village.
"Access from Number 22 to the concrete bridge is out of the question. No tractor can pass there; not even the big tractors. So, I end up having to travel around to the Onverwagt Road and then going all the way up to Hopetown on what is supposed to be a Main Access Road— an all-weather Road. That is only an access road in words; it is worst that an earth dam. We now have to park about a mile before and walk to cross the main canal with a small boat and then walk another half mile to get the way of my farm lands," the farmer explained while adding that it is no longer profitable to cultivate rice under those conditions because the cost to take fertiliser to his fields would exceed proceeds from his crop.
"It is 45 days now for the rice. I don't see it being possible because of the cost to transport 15 bags of fertiliser with a small boat; a Honda 5 horsepower engine. It is about $10,000 and then you have to add $45,000 to the cost of production and if you multiply that by three, you would recognise how much more money I have to spend".
However, the MMA said it is cash strapped, but Ramphal, who is a member of the MMA Board, disagrees.
"They are funds that can do some of these works. Apart from that since farmers are being faced with so many difficulties, I am calling on the MMA to reduce that exorbitant increase that they would have imposed on farmers a few years ago. This is the time to withdraw that huge increase and allow the farmers to pay the regular rate. They are faced with tremendous financial difficulties at this time and we cannot pressure them or else we will push them out of business families will be suffering. This is the time where we can see uncaringness of this Government because if they sob care about farmers, they would have come in a long time ago and subsidised MMA to ensure the farmers have a better livelihood," the Regional Chairman argued.