Two more corporate partners have committed to the successful execution of the GFF-ExxonMobil International Futsal Festival scheduled for December 27- 30 at the Cliff Anderson Sports Hall.
Trophy Stall and Auto Fashion on Friday each donated the championship trophy and medals for the eight participating teams in this inaugural tournament.
Ramesh Sunich, long time sports supporter and proprietor of Trophy Stall, has expressed his pleasure at being able to collaborate with the tournament, and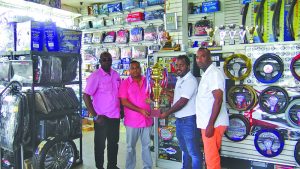 committed his continuous support to sports in Guyana.
Rupie Shewjattan, Proprietor of Auto Fashion, said he is pleased to support the initiative, as his business has been a sponsor of football for a number of years, and "we like to support sports, especially for a good reason." He has indicated that it is in the interest of his business to continue sponsorship of the tournament next year.
The four-day festival will kick off with six matches being played between the period 18:00hrs and 00:00hrs, with each match being played on the hour, culminating with the final match at 23:00hrs.
The teams, which include Morvant Caledonia United from Trinidad and Tobago, ZV All-Stars from Suriname, and a São Paulo selection from Brazil, will be placed in two groups. The local teams participating are an East Coast All-Stars, Linden All-Stars, Georgetown All-Stars and West Demerara All-Stars.
The winning team will pocket $1.2 million, while the losing finalist will receive half that amount. Third and fourth-placed finishers will pocket $300,000 and $100,000 respectively.