A mother of two, a former model of Basseterre, Saint Kitts and Nevis, and Plaisance, East Coast Demerara (ECD), is now dead after she was involved in an accident on the Linden-Soesdyke Highway on Sunday morning.
Dead is 35-year-old Natoya Narine.
Her boyfriend, her 11-year-old daughter, and another child who were occupants of the vehicle at the time of the accident were also injured.
While details of the accident remain sketchy, Guyana Times was informed that the woman, who had recently moved to Linden, Region 10 (Upper Demerara-Berbice) with her boyfriend, was allegedly making her way down to Georgetown when she was involved in the accident.
The woman's best friend, Kiwi Liburd, told this publication that before the accident occurred, Narine was consuming alcohol, and was the driver of the motor car. She said that based on the information they received, Narine's boyfriend was driving the car, and had later switched seats with the woman before the accident occurred.
"He gave her the car to drive knowing that she does not have a licence and she was drinking as well. She was coming from her boyfriend, and while he was driving, she probably asked if she can drive and he exchanged with her and started driving. He was injured, his baby was injured, and Natoya's daughter was injured," she explained.
Liburd could not say how the accident occurred, but there are reports that she might have lost control of the vehicle, which later toppled and came to a halt.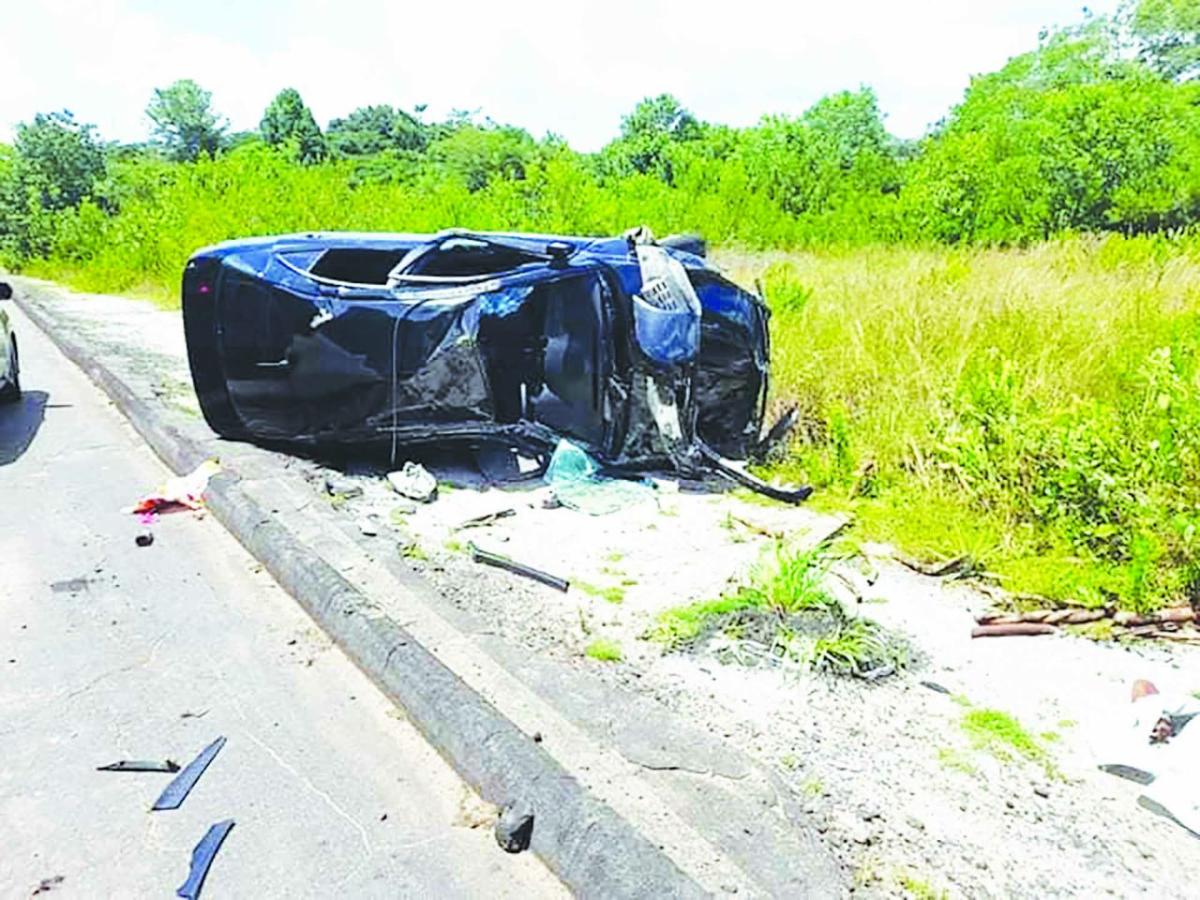 As a result of the accident, the former model sustained a broken neck and spine. She was pronounced dead at the scene, while her daughter sustained a broken leg and lacerations about her body. She is currently undergoing surgery.
It was also reported that the dead woman's boyfriend and the other child sustained minor injuries.
"Based on what her aunt said, her face was damaged. You could not even tell that was her…", she said.
Liburd added that Narine had been living in Saint Kitts and Nevis for about 10 years and only came back to Guyana two years ago after her younger brother, Corporal Seon Rose of the Guyana Defence Force (GDF), was killed in an explosion aback the Guyana Defence Force's Coast Guard location at Ruimveldt, Georgetown.
The explosion had occurred while soldiers attached to the GDF Artillery Unit were preparing for the fireworks display to usher in Guyana's 50th Republic Day anniversary, which was subsequently called off.
Rose had sustained third-degree burns about his body and reportedly died while receiving medical attention in the Burns Unit of the Georgetown Public Hospital.
"She left to go back home to her brother's funeral and stayed. The last thing I know is that she had opened her own minibar down there or a little shop… when she returned home, she was living with an uncle and an aunt…".
Liburd said it is still surreal that she has lost her best friend at such a young age and she cannot even imagine how her friend's children will handle their mother's death.
"She was an amazing person, she was a beautiful soul, she would give her last to anyone, especially her kids, she would do anything for her kids. She has been through a lot and she still tried her best to smile through it all to make people feel she was okay, but deep down inside she was not. She was perfect… she makes you feel alive even when you are down… she is the best thing anybody can ask for."
"Losing her, I still cannot believe that I have lost her, and I don't want to believe it… when I spoke to her aunt, she said the daughter kept calling out for her and she doesn't know anything as yet, and neither her son… she doesn't know how to tell them," the best friend expressed.
Up until press time on Sunday the Guyana Police Force has not yet released a report on the accident. (G9)