A 28-year-old mother of three was on Saturday morning stabbed to death by her reputed husband at their Rosignol, West Coast Berbice, Region Five (Mahaica-Berbice) home.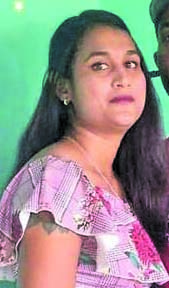 Dead is Amrita Rahim also called "Sally" of Lot 7 Murphy Dam Rosignol, West Coast Berbice. Reports are the incident occurred at about 01:30h on Saturday morning and was witnessed by one of the couple's children.
According to the police, the child told investigators that the couple attended a birthday party, which was held in the same yard where they resided and went home at about 23:45h. Police said that upon returning home, the 32-year-old suspect accused his reputed wife of infidelity. This led to an argument and the woman threatened the cane cutter that she would leave the house.
According to Police, the man then went into the kitchen and returned with a knife and stabbed his wife as she was lying on her bed.
The woman's brother-in-law, Vijai Rahim, who lives in the same yard, told this publication that he was asleep when the incident occurred.
"My wife woke me up and told me to go and see my brother and his wife were fighting. When I run over, he had already left and when I run in the house she was lying on the bed with a small wound on the upper chest," Rahim said. He said he rushed his sister-in-law to the Fort Wellington Hospital. She was, however, pronounced dead on arrival. This publication was told that the couple had been married for 13 years and has three children aged eight, 10 and 11.
Rahim said shortly after he returned home, he came face to face with his brother.
"After I came home, about five or ten minutes after my brother came home and he called for me. When I went down to him, he told me that he went to the police station but the front gate locked and he asked me to call the police for him," Rahim said.
He said he told his brother to take a seat and tried to find out what occurred. Police subsequently arrived and arrested the suspect at his home. He remains in custody as investigations continue. This newspaper was told that the relationship had been a very abusive one for years.