– as high-level meeting held with UNHCR officials
While holding a high-level meeting with United Nations High Commissioner for Refugees (UNHCR), Foreign Affairs Minister Hugh Todd made it clear that a multi-agency approach will continue to be used to address the influx of Venezuelan migrants in Guyana.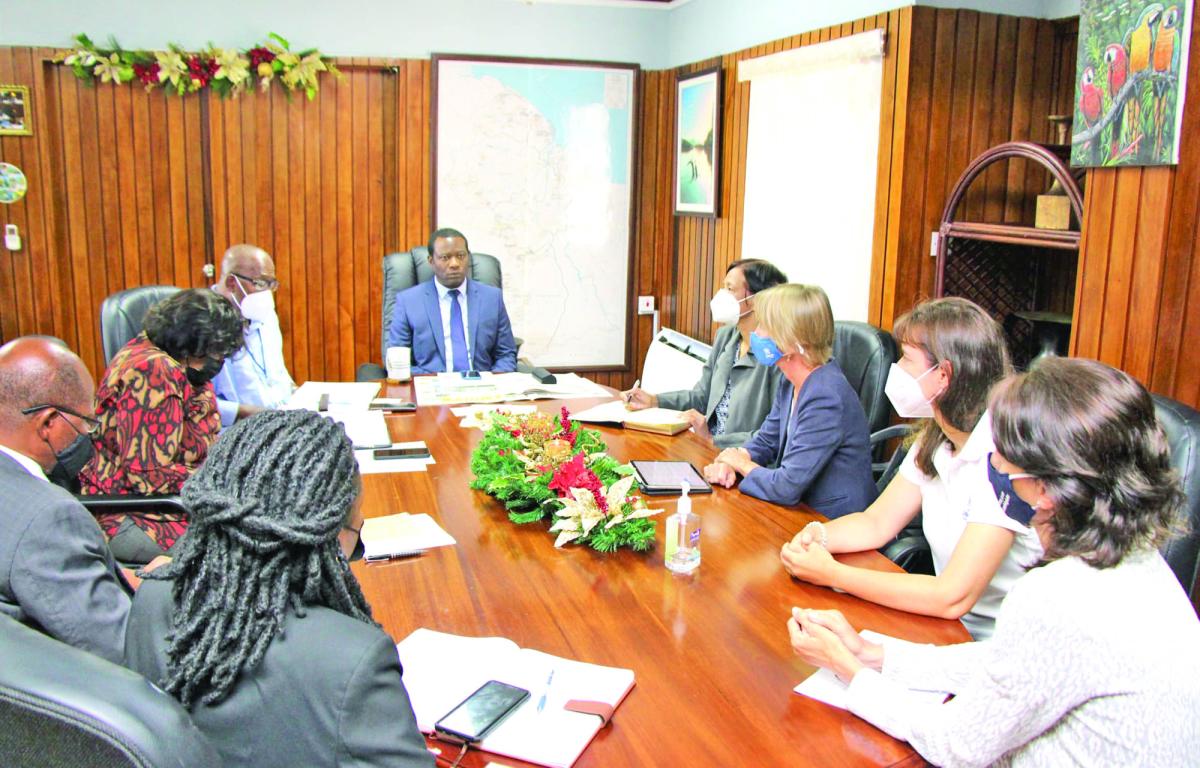 On Monday, Todd met with UNHCR's Multi-Country Office Representative Phillipa Candler. Candler was accompanied by Regional Deputy Representative of UNHCR, Renee Cuijpers, and Head of UNHCR's Office in Guyana, Cecilie Saenz Guerrero.
During the meeting, Minister Todd noted that the Multi-Agency Coordinating Committee continues to address the influx of migrants from Venezuela. Additionally, he explained that efforts continue to facilitate the ongoing monitoring and other activities geared towards improving the lives of the migrants from Venezuela residing in Guyana.
"The importance of the Multi-Agency Coordinating Committee and adequate management of the migrant situation in Guyana was also discussed," a release from the Ministry of Foreign Affairs and International Cooperation also said.
The Multi-Agency Coordinating Committee is co-chaired by the Ministers of Foreign Affairs and International Cooperation and, Parliamentary Affairs and Governance and includes representatives of the Ministries of Education, Health, Home Affairs, Human Services and Social Security, Guyana Water Incorporation, Guyana Police Force, Guyana Defence Force, the Civil Defence Commission, International Organisation for Migration (IOM) and the UNHCR.
With over 20,000 Venezuelan migrants in remote hinterland areas, the UNHCR has been underscoring the need for humanitarian presence and support from the international community to aid with the Government of Guyana's response to the needs of these communities.
During a recent press briefing in Geneva, Candler had expressed concerns about the difficult conditions of Indigenous Venezuelans in Guyana, some of whom have settled in hard-to-reach areas near the border and others in or around the towns of Mabaruma and Port Kaituma, Region One (Barima-Waini).
"UNHCR, the UN Refugee Agency, colleagues and I are worried about the difficult living conditions of Indigenous [Warrau] families from Venezuela who are settled in remote locations across Guyana. Increased humanitarian presence and timely support from the international community is needed to help the Government of Guyana respond to the needs of these communities," Candler had stated.
Migrants
The UN Refugee Agency representative had also disclosed that Guyana is currently home to an estimated 24,500 refugees and migrants from Venezuela, including some 2500 Indigenous Warraus.
She had noted that some 250 Warraus, half of whom are children, have also found refuge in Anabisi in northern Guyana since early 2020. According to Candler, access to critical services, such as healthcare and education, for these communities is limited. This is further compounded by the fact that the delivery of aid is impeded by remoteness, lack of transport infrastructure and distances.
In fact, it was noted that assessments conducted in October and November among the Warrau refugee and migrant households indicate mounting needs, aggravated by the economic downturn caused by the COVID-19 pandemic.
She had also gone on to reveal that at least one Warrau child in Anabisi has died and several others were hospitalised, reportedly due to malnutrition and diseases related to poor sanitation conditions. Some, she added however, have since been discharged.
Nevertheless, the UNHCR is on the ground, coordinating with the Government and humanitarian partners on how to best support the Government-led response. Candler noted that the Refugee Agency is assisting with the delivery of food hampers, solar lamps, mosquito nets, water purification tablets provided by Guyana's Civil Defence Commission (CDC), and other basic relief items to some 400 Indigenous Warraus from Venezuela living in northern Guyana, including in the Anabisi community.
Only recently, a team including several Government Ministers and health workers visited Anabisi to provide critical medical care and assess their needs following reports of the poor living conditions they were in.
The medical team examined some 20 children, who were treated for skin rashes, upper respiratory and diarrhoeal diseases. Four of the children were taken to the Port Kaituma Regional Hospital for further medical treatment. Another medical team returned the following day to continue examining the migrants.
Health Ministry Dr Frank Anthony, who was part of the visiting team, said in addition to providing healthcare services, measures are being put in place to ensure that the migrants are living in a clean and sanitary environment.
"So, because of the unhygienic conditions, they're using the same water from the river and they're using the river to wash and do other things there. So, the water is not of good quality and what we were able to do on Sunday, we gave them some what is called jerry cans which have filters in them so when they take the water from the river, they can do some level of filtration… which will help to purify the contaminated water, making it better for them to drink and which will prevent some of the diarrhoeal disease that they are experiencing," the Minister had stated.
Additionally, the CDC had distributed hampers containing essential items and food.