Murder accused Mahash Rajpaul was on Monday stabbed to death at the Lusigan Prison, East Coast Demerara, during an argument over "bed space".
Reports are that at about 14:50h on Monday, Rajpaul was stabbed to the left side of his chest during a confrontation with another murder accused in Holding Bay One at the Georgetown Prison B location.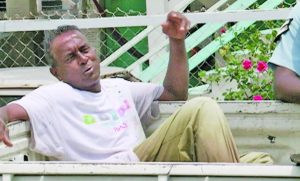 Guyana Prison Service (GPS) in a statement on Monday evening, said that investigations revealed that the suspect accused Rajpaul of walking on his "bed space" and an argument ensued which led to a fight.
Reports are that an alarm was raised by other inmates, resulting in the prisoner being administered first aid and being taken to prison infirmary where he was examined by the prison doctor. He was then rushed to the Georgetown Public Hospital by the Melanie Fire Station ambulance. He, however, succumbed to his injuries.
GPS said in its statement that a search was conducted in Bay One, in an effort to retrieve the improvised weapon which was used to committed the murder and it was found and handed over to the Police.
The suspect has since been isolated from the other prisoners.
The dead prisoner was accused of killing Bhagwan Ramadhar, a father of four, in October 2017.
Guyana Times had reported in 2017, Ramadhar, a deportee from the United States, was beaten to death during a drinking spree with Rajpaul at his Industry Front, East Coast Demerara home.
Reports at the time were that the two men had been in the habit of consuming alcohol, and on October 2, 2017, they were engaged in a heated argument. During the argument, the suspect, Rajpaul, also called "Crusher," picked up a piece of wood and dealt Ramadhar one blow to the head.
Anger management
Meanwhile, Director of Prison Nicklon Elliot said while the incident is unfortunate, the Prison Service continues to acknowledge the importance of anger management classes in the reduction of prisoner-to-prisoner violence.
He noted that the welfare officer and senior management at the Georgetown Prison B (Holding Bay) will continue to have weekly sessions with the inmates; urging them to address their issues in accordance with prison rules and highlighting the consequences of violence in prison.
Elliot said the prison directorate will continue to increase random searches to retrieve any improvised weapons which may be concealed.
Further, the Prison Director is of the view that the completion of the construction of the Lusignan Prison will address overcrowding concerns and provide a safer environment for inmates.
The matter is currently being investigated by the Guyana Police Force.