…registration will close on February 6
…6 teams confirmed thus far
The highly-anticipated Muslim Youth Organisation (MYO) of Guyana Inter-Jamaat Softball Cricket Competition will once again hit open the 2019 season with tons of action as it is scheduled to start on February 10, 2019 at the MYO Ground, Woolford Avenue, Thomas Lands, Georgetown.
However, registration has been further extended to February 6, 2019. Thus far, six teams have successfully registered – New Amsterdam Masjid, Uitvlugt Masjid, Cornelia Ida Masjid, MYO Masjid, lbi Masjid and Farm Masjid.
Speaking with Guyana Times Sport, Sports Committee Chairman and Senior Vice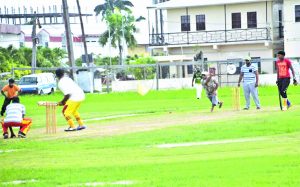 President Imran Ally stated that the intention of the competition was to bring out the youths to do something meaningful, as from this tournament they would be able to have clean recreational fun. Fostering brotherhood through sports is the tournament's main objective. Ally went on to state that the tournament was usually held at least two times per year and would usually have intense action from the first ball bowled.
He also told this publication that for the many tournaments that have been held, there have been various winners, but noted that participating teams should be prepared as MYO and Farm were two of the top teams that have been dominating the competition.
In closing, Ally invited all teams to come out and register and be part of some clean exciting fun. The registration fee is $3000 per team and lots of trophies and cash incentives will be at stake.
All Jamaats interested in participating in this competition are kindly asked to make contact with Br Imran Ally on 231-9822 (h), 689-7425 (c); Br Ralph Khan on 625-4330; Br Abdool Kumar on 670-8207, or Br Azad Ibrahim on 624-3362. Also, sports fanatics interested in attending can check out the Facebook page, "Muslim Youth Organisation of Guyana".
This event is sponsored by the MYO.