Guyana's most promising badminton player, current national men's champion Narayan Ramdhani, continues to excel while studying and competing in Canada.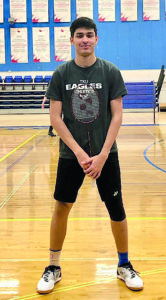 For the second consecutive year, he has been recipient of the Most Valuable Player (MVP) of the Year Award at the Kings University at Edmonton, Canada.
Ramdhani first received the award in the 2018-2019 season, and has now repeated the feat in the 2019-2020 season, following some stellar performances on the court, and after finishing fourth in the Canadian Collegiate National Badminton Championships.
The Kings University had this to say about Ramdhani's stellar achievement: "In the sport of Badminton, the

Singles discipline is the most coveted, but also the most difficult. Simply put, a great singles player must be physically fit, mentally strong, and have a mastery of the racquet and shuttlecock. Our award recipient once again has gone above and beyond to make his teammates, coaches and the Kings University very proud. Whether it was late night fitness sessions or extra off-campus training, he took no shortcuts. He also places a great deal of pressure on himself to be the very best. His back-to-back National's appearance is a first for the Kings Badminton, and we know he strides to extend that streak. His hunger to succeed on and off court is evident during practice, as he is always asking for more drills. His teammates and coaches know what he is capable of, and we are excited to watch his continual growth."
Some of the achievements that were taken into consideration in order to present Ramdhani with the coveted MVP prize were: his finishing in the top three at all the Alberta Colleges Athletic Conference (ACAC) tournaments; his silver medal at the Alberta Colleges Athletics Conference (ACAC) Provincial championships; winning the All Conference Award; and finishing in the top four at the Canadian Collegiate Athletic Association (CCAA) National Championships.
Ramdhani's 2019-2020 Season achievements are as follows:
Guyana Current National Ranking: No.1
Canada Current CCAA National Ranking: No.4
AB Canada Current ACAC Ranking: No.2
AB Canada Current Kings University Ranking: No.1
4-Times Athlete of the Week Kings University (AB Canada) 2019-20
2-Times ACAC All Conference Award (AB Canada) 2019-20