GCB Under-15 Inter-County
National Under-15 versatile all-rounder Sheldon Charles has been appointed Captain of the Essequibo youth team for the upcoming Guyana Cricket Board (GCB) limited-over Under-15 competition, which is tentatively set to commence on March 12.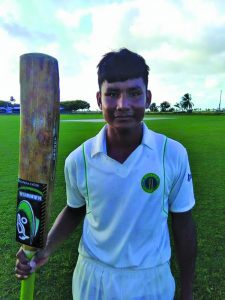 The right-handed Charles scored back-to-back centuries in the trial matches on Monday and Tuesday at the Imam Bacchus Cricket Club Ground in Affiance, organised by the Essequibo Cricket Board (ECB).
The Cinderella County youngsters will begin their campaign against defending champions Demerara at a venue to be announced as well.
ECB selectors have also chosen four standby players for this year's competition, which is expected to be played on a round-robin basis.
The team will be once again coached by Forbes Daniels with Vickram Ramnarine as the manager.
The team reads: Sheldon Charles (Captain); Orin Gibson; Renaldo Scouten; Devindra Ramdahin; Rapheal David; Manoj Dasrat; Chaitram Sewrattan; Wasim Mohamed; Adarsh Ramdial; Mark Mohabir; Sunil Persaud; Inzamam Bacchus; Shawn Monro and Tyron Brandon.
The four standby players are: Ken George, Ureal Stoll, Ryan Atkinson and Tushal Surujpaul.