The inaugural 592 Beer, i-Cool Water 10/10 Softball Cup was launched at ANSA McAL Corporate Head Office, Beterverwagting, East Coast Demerara (ECD) and is expected to begin on May 18.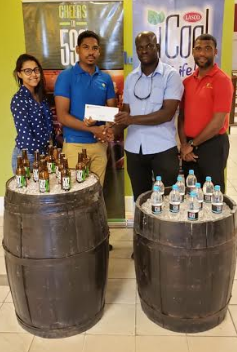 The tournament, which is open to all teams across Guyana, is being sponsored under the 592 Beer and i-Cool Water brands and is organised by the Demerara Softball Cricket Association.
According to Samuel Kingston of the Cricket Association, there is a registration fee of $12,000 per team, which allows teams to participate in the tournament and to also receive one case of 592 Beer, one case of i-Cool Water and a pack of tournament balls ahead of their opening match.
Kingston further stated that a special yellow supreme ball is the official ball of the tournament. The balls are only available at Trophy Stall in Bourda Market or at the match venues on match days. According to the organiser, the use of any other ball by any team will result in immediate disqualification of that team.
Teams to show early interest include Farm XI, Speed Boat All Stars, Omesh XI, De Hoop All-Stars, Success All Stars, Super Stars, Lusignan All Stars, Regal All-Stars, Park Rangers, HS All Stars, Ariel All Stars, Boots All Stars, Grill Masters XI, Canje All Stars, Corriverton All Stars, Edinburgh All Stars and Young and the Restless.
Registration is still open and teams may contact the following persons to sign up. In West Demerara, Omesh on 675-7961, on the Essequibo Coast, Patrick Rooplall 671-5697, in Berbice Roy Jaferalli and in Georgetown and East Bank Demerara Samuel Kingston on 692-8815.
Matches will be played in Berbice and Georgetown.