Engineers attached to the National Drainage and Irrigation Authority (NDIA) are brainstorming effective methods to combat the extreme erosion and flooding at Coomacka, Region 10 (Upper Demerara-Berbice).
Recently, a team of engineers, along with Regional Chairman Renis Morian and Councillors, revisited the affected areas with a commitment that works would commence soon to address the issue.
As a result of severe erosion, more than half of the community's river was deemed impassable and as such, residents have suffered as a result of intense flooding.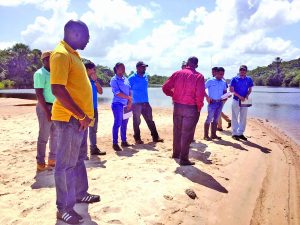 However, engineers are now devising a plan to first stop the erosion and remove the large build-up of sand on the eastern side of the Demerara River.
Morian related that the aim was to bring relief to residents who have suffered first-hand from the devastation. He also pointed to the issue as being a result of years of bauxite mining.
"We were in Coomacka here a number of times, looking at the issue here as it relates to flooding, based on what has been happening in mining over the years. Well, the Government is moving now to deal with the situation … What the engineers are looking at is the best way to deal with this. The key though is that at the end of the day, we want the residents to be satisfied and feel protected. We want to have the river cleared, so that navigation will be safe and also we don't have backing up of water … This is the first phase that we're doing," Morian noted.
In an invited comment, acting NDIA Chief Executive Officer (CEO) Dave Hicks explained that engineers would first design a plan to remedy the issue of erosion, with the implementation expected to take six to eight weeks.
Following this, the river is expected to be dredged. Regional Councillor Dexter Harding said he would be working closely with the team until the project came to an end.
"I am happy as a councillor in the area that we have movements in relation to solving the problem, appeasing the situation here in Coomacka and I will be working 100 per cent with the team to ensure we have the work for the money and the people are pleased here in Coomacka. This is our objective to see that this's fixed as soon as possible," Harding noted.