By Brandon Corlette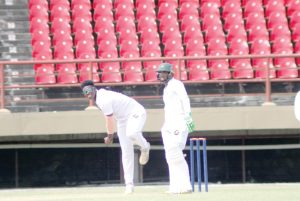 Former West Indies Under-19 and current West Indies Academy left-arm spinner Ashmead Nedd has received his maiden First-Class call up to the Guyana Harpy Eagles team. Nedd has been selected in the 13-man squad that will face Barbados Pride from February 1 in Antigua.
The youngster has said he is excited but focused to play the longer format. He also disclosed that he gathered certain knowledge from former West Indies and Jamaica spinner Nikita Miller.
"It is a great feeling being able to represent your country at the First-Class level. Looking at First-Class cricket and Test cricket, it is basically the highest played format. All the greats are looking at it. It is very good Test players, and they all came through a First-Class season at some point in their career. So, this is a good step (for me) moving forward," Nedd explained.
The man from the capital city in Guyana, Nedd, had a solid season with the West Indies Academy in the 2022 Regional Super50. In fact, Nedd's overall List A career is solid, as he picked up 22 wickets in 17 matches at a good average of 22.59 and a top economy rate of 3.75, considering the game being dominated by bat.
The 22-year-old Nedd has also had stints with the Leeward Islands Hurricanes in Super50 cricket. "For the West Indies Academy and List A cricket, we have been together for a month before the Super50 tournament. I was working a bit with Nikita Miller, he showed me a few stuff while I was on camp, and we were mainly focusing on red-ball for myself, because it was something I stress on, I feel like I need red-ball cricket to get some more skills in my game; so that was good," he explained.
For the upcoming West Indies Championships, the Regional Four-Day, Nedd is in the squad of 13 that includes Veerasammy Permaul, a left-arm spinner like himself, and off-spinner Kevin Sinclair, his former West Indies Emerging Player teammate.
Sharing his sentiments on playing alongside Permaul, Nedd said: "Looking at Permaul, I don't have a close relationship with him, but I always look at him, how he carries himself as a professional. He leads by example. He is a very good bowler, so it is just going and play with him for the first season, and it is just for me to gather as much information as I could."
Ashmead will be under the guidance of his father, Coach Garvin Nedd, Assistant Coach for the current Guyana Harpy Eagles team. He has described his father as someone he can rely on, and someone who keeps him calm.
"He has been there from day one, my personal coach. He is someone that I can rely on. He keeps me calm a lot. He is the only person that can talk to me in certain situations. So, it is good to have a father and a coach on tour, that can lead you in the right direction," the youngster has said.
Nedd has also gained great experience as a net-bowler in the Indian Premier League for Royal Challengers Bangalore. He has also played with the Jamaica Tallawahs in the Caribbean Premier League. The left-arm spinner also played cricket at all junior levels for Demerara and Guyana. He also represented West Indies at the Under-16 and Under-19 levels. Certainly, Nedd is one for the future in Guyana and West Indies cricket.