The decomposed body which was discovered with a black plastic bag wrapped around the head in a drain at Patentia, West Bank Demerara (WBD) has been identified as that of 57-year-old Abdool Ghannie, called "Dennis" or "Fulla" of the same community.
The body, which was discovered on Monday by passers-by, was identified by the man's cousin on Wednesday.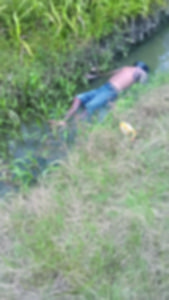 The man's neighbour has since reportedly confessed to the crime, according to Police.
Reports are that the neighbour, when questioned by detectives on Tuesday night, admitted under caution that Ghannie visited his home on Saturday, October 19.
However, the duo had a misunderstanding, which resulted in the neighbour punching the man to his face, causing several injuries.
According to Police, on Sunday night, the neighbour reportedly tied a plastic bag over the man's head and dumped the body in a drain.
When contacted by this newspaper, Region Three (West Demerara-East Bank Essequibo) Police Commander, Senior Superintendent Linden Lord explained that after being punched by the neighbour, the man became motionless. The neighbour, he added, thought that the man was asleep.
On Sunday morning, the neighbour noticed the man was in the same position and thought he was still sleeping. As such, the neighbour went to work.
However, upon his return home, Ghannie was still in the same motionless position. This is when the neighbour realised something was amiss.
He lifted the man's head up and saw blood. It was then that the neighbour put the man's head in a plastic bag to prevent the blood from dripping as he dumped the body in a nearby drain.
A post-mortem examination conducted on the body gave the cause of death as brain haemorrhage, blunt trauma to the head compounded by aspiration of blood.
The neighbour is in Police custody and is expected to be charged for the crime.