Caribbean Premier League…
– GAW continue intense training session at GNS
Story and Photos by Brandon Corlette
Jamaican right-handed batsman Brandon King is ready to embrace the new challenges the Guyana Amazon Warriors' franchise has to offer. Speaking to the media on the second day of the pre-tournament camp at the Guyana National Stadium (GNS), King, as a new member of the GAW squad, disclosed that he feels excited at being involved in a new set-up.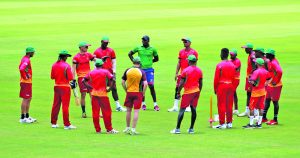 "One of skills you have to get as a cricketer is being able to adapt to different situations," he declared. "It is always good to experience new things."
This 24-year-old stroke-maker has said that, given the necessary time, he would familiarize himself with the players, and figure out the role that best suits him in the team.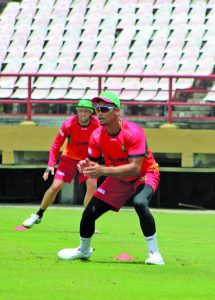 Having played for the St Kitts and Nevis Patriots in the 2018 edition of the Hero Caribbean Premier League (CPL), King is looking for a smooth transition into the Guyana Amazon Warriors.
King has also played for the West Indies 'A' team against the India 'A' team recently. He said he would be aiming to improve every aspect of his game during his stint with the GAW, and is eager to play a huge role in the GAW's success in this 2019 campaign.
"This franchise has been doing well. Hopefully, I can be a part of taking the team across the final line", King disclosed.
There are some hugely experienced names in the GAW squad, and King will be aiming to capitalize on gaining knowledge from them. "It's definitely a plus playing with guys who have years of experience. I will be looking to have as many conversations with these guys and learn as much as I can, and incorporate this into my game", the elegant batsman disclosed.
Being a Jamaican national, King has said that whenever he plays against his 'home boys', he would be motivated. "It's franchise cricket, and you tend to move around a lot; so I will use that challenge as a motivation", King explained.
With the T20 International World Cup set for play in 2020, King has said he would be aiming to register some solid performances in the CPL, to push his chances of being selected.
"This is the premier T20 competition in the Caribbean, and players are selected based on their performances; so it's a stepping stone," he said, adding that CPL is televised globally and it is a big stage on which to showcase one's skills.
King made his CPL debut in 2017 against GAW, wherein he scored only 11 runs. In that season, he played 11 matches for the St Kitts and Nevis Patriots and scored 125 runs in seven innings. The right-handed middle order batsman has had few opportunities in a team that once included the likes of Chris Gayle and Evin Lewis. In his 2018 season with that franchise, King had opportunity to bat in only seven innings. He tallied 142 runs, including a career best 60.
King's batting is distinguished by elegance and grace. He has a healthy strike rate of 135.23 in a career in which he has played 18 T20I matches and has scored 267 runs, with a lone half-century and a T20 career strike rate of 119.
At the Regional level, King has been a good performer for Jamaica in First Class and List 'A' matches. Since making his First Class debut in 2015, King has participated in 27 matches, from which he has scored 1703 runs. He has scored two centuries and 11 half-centuries, including a career best of 194.
King has the ability to bat in challenging situations, and can score quickly if required. He was Jamaica's leading batsman in the recently concluded 2018/19 Regional Four-Day season. In seven First Class matches, he accumulated 630 runs at a brilliant average of 48.46, and had six half-centuries and a high score of 133 in his best Regional season.
King represented the West Indies 'B' team in the Global T20 Canada, and has played for West Indies U-19s. His performances in the Regional arena have seen him participating in West Indies High Performance Camps in recent times.
Having the luxury of time on his side, King is one for the future. When he suits up for the Guyana Amazon Warriors he will be aiming to continue his consistency in the Regional arena, and push for higher representation.