…officially takes oath of office
New Guyana Elections Commission (GECOM) Chief Elections Officer (CEO) Vishnu Persaud was on Tuesday sworn in before acting Chief Justice Roxane George and Chief Magistrate Ann McLennan, promising to do his part to rebuild trust in an electoral system badly shaken over the past few years.
Speaking with the media following the event, GECOM CEO Persaud explained that he already has some strategies in mind to rebuild the public's trust in GECOM. This is especially in light of the 2020 elections fiasco, which has resulted in several GECOM officials including his predecessor, being charged before the courts.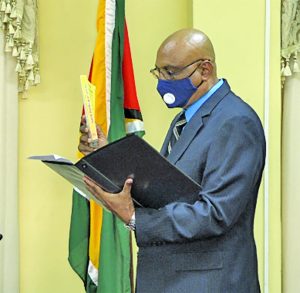 "You in the media and I would venture that most people in the public at large, would have known me for carrying out my duties in adhering to the laws and policies of the Commission and basically carrying out my duties in a professional manner. In that regard, I will continue in that same trait."
"No one has to have any worry about my neutrality or that I may deviate from the path of what is lawful and proper… and I have in my mind already how I will go about (restoring confidence in GECOM). There may be some people who might venture that the reputation of the Commission has not been damaged. There are those who may disagree. But the perception is out there," Persaud said.
According to the CEO, as time progresses the nation will be able to see how effective those strategies are at returning confidence to GECOM. Asked about the pressures that come with the job, Persaud assured that there is no pressure on his shoulders as he takes up this task and he will be meeting with the Commission as he seeks to set the Secretariat's agenda.
On the issue of Local Government Elections (LGE), which were originally due this year but were postponed due to the vacancies at GECOM, he is confident that these polls could be held next year.
No hard feelings
Persaud has history at GECOM, having worked as the Deputy CEO from 2014 to 2017, before being overlooked in 2018 for the position when he sought to return to it, in favour of Roxanne Myers.
At the time, an Ethnic Relations Commission (ERC) investigation had found that Persaud was the more qualified candidate for the position and that then GECOM Chairman James Patterson erred in how he handled Persaud's candidacy. Persaud made it clear now, however, that he has no axe to grind.
"Since at the time when my candidacy for reappointment as the DCEO was not successful, I put that behind my back. I did not allow it to beat me down in any way. I had to look forward. And coming back now, I have not taken this appointment bringing any of that stuff with me. I carry no grudge; I hold no malice. Like I said earlier, I welcome the opportunity to now come back and carry out my duties in the best interest of all concerned," Persaud said.
According to the CEO, Persaud will now have to get an idea of operations as they currently stand in all the departments. He said that if there are any projects in the pipeline, he will engage with staff with a view to ensure these projects can be completed in a timely manner. On the matter of a new Register of Registrants, Persaud said he would be guided by the law in how he advises the Commission.
Persaud was appointed following a competitive process that saw the position tendered for and attracted applications from local and international. Meanwhile, the electoral body also has to fill several other key senior positions within the Elections Secretariat including Deputy Chief Elections Officer, Assistant Chief Elections Officer, Chief Accountant, Legal Officer, Logistics Officer, and Civic and Voter Education Manager.
These posts are being filled following the removal of CEO Keith Lowenfield; his Deputy, Roxanne Myers, and Region Four (Demerara-Mahaica) Returning Officer Clairmont Mingo. They were on August 12 dismissed from their respective posts at the Elections Commission.
The embattled trio is currently before the courts facing a number of electoral fraud charges for their alleged attempts to sway the results of the March 2020 General and Regional Elections in favour of the then ruling A Partnership for National Unity/Alliance For Change (APNU/AFC) Government.