The creation of new products and experiences brings vast diversity to Guyana's evolving tourism sector, and Director of the Guyana Tourism Authority (GTA), Kamrul Baksh remains adamant that all regions should develop products that will benefit their communities.
He made the disclosure during a recent interview with the Department of Public Information (DPI), as he stressed the importance of establishing more goods and services to appeal to foreigners and even local businesses.
"We're developing products across the ten administrative regions. There is no concentration in any particular area because all the regions have great products," the director stated.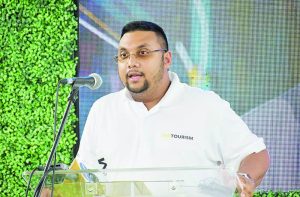 In March, the GTA along with the Tourism and Hospitality Association of Guyana (THAG) and other stakeholders launched the Discover Essequibo Circuit Development project.
This project is aimed at creating, revitalising, and boosting tourism services in Region Two.
Similar circuit development projects have since been launched in a number of villages in various regions, while more are on GTA's agenda to be established.
The creation of these new products and experiences will give both local and international travellers a wide range of options to choose from.
"Our aim is to create a diversified product. So, it is diversified, it's resilient, strong, competitive in the market and that's what we want to develop here," Baksh explained.
However, these products are created based on a criterion called the 'Product Market Match.' This is done based on location, the people living in the area, and how the product fits into the village.
According to Baksh, within the last three years, the GTA has launched 27 new tourism experiences in the country.