– Johnson plans to make it an annual feature
By Timothy Jaikarran
West Indies left handed middle order batsman Leon Johnson on Thursday August 30, 2018 concluded a successful one-day cricket clinic held in collaboration with the Georgetown Cricket Association (GCA). The well attended clinic took place at the former international venue, Georgetown Cricket Club (GCC), Bourda with participation from clubs within the GCA.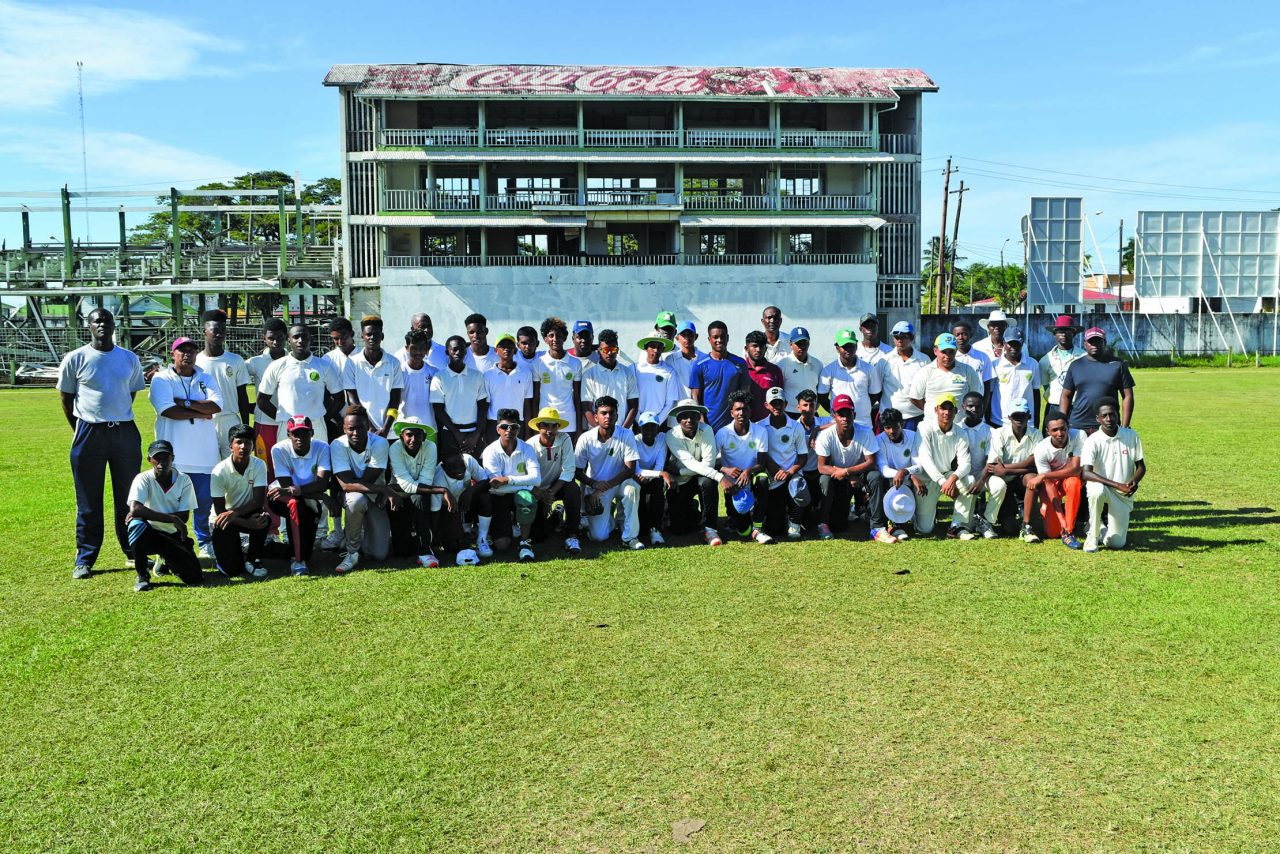 The clinic targeted young cricketers between the ages of 15 and 18 and Johnson who himself is a GCC member said it was his way of giving back. "It's something I've wanted to do for a while, a form of giving back to clubs in the association that I've grown up playing in. When I was younger, I was given the same opportunities to learn and develop, so it's only right that I give young talented players those same opportunities," the Guyana Jaguars captain told Guyana Times Sport at the conclusion of the clinic.
The 31-year old Johnson further stated, "Out of the session we saw some very talented players from as far as the East Coast [of Demerara] and we earmarked them so we can invite them to come down to Georgetown and play for one of the clubs here."
The exercise was blessed with brilliant weather that allowed the coaches adequate time to focus on the various techniques in both batting and bowling with the 32 participants.
Also speaking with Guyana Times Sport was budding fast bowler from the Muslim Youth Organization (MYO), Byron Bowen who spoke of his experience. "I learnt various bowling techniques such as run up and wrist position. I love the way the coaches placed emphasis on our catching techniques as well." Young Bowen was in high praises for the clinic and the work done by all of the coaches including President of the Georgetown cricket Association, Roger Harper.
The clinic attracted players from 11 clubs that fall under the GCA. The beneficiaries of the first clinic are; Trevon Jones, Jeffery Blair, Jeremiah Benjamin, Raymond Bandhu, Jamual Michael, Akeem Clark, Noel Haynes, Devon Allen, Daveanand Khemraj, Andrew Samaroo, Ajay Gainda, Shafeek Khan, Dwayne Dick, Chandrapaul Ramraj, Navindra Persaud, Zechariah Mootoo, Joshua Gardner, Niron Bissu, Bryon Bowen, Ryan Ronaldo, Shane Niles, Amernaut Wickham,Chad Shiverattan,Wayne Bollers, Tuen Hicks, Kester McAllister, Kareem Whitney, Daniel Mootoo, Jason Holder, Garrick Persaud and Tameshar Permaul.
Overwhelmed by the response, Johnson said he is looking to keep the clinic going on an annual basis where players from across the country may be exposed to the sessions as well.
Former West Indies players Roger Harper, Reon King and Clyde Butts as well as Mark Harper, Darien Best and Peter Persaud were the coaches.