– says former AG
By Samuel Sukhnandan
A new trend of legislative drafting has raised some eyebrows and should be a cause for concern to many as it seeks to give more power to Government Ministers and does not require for the immediate renewal of a Board, former Attorney General and Legal Affairs Minister, Anil Nandlall has said.
Nandlall told Guyana Times that this trend was never there before. However, he said whenever a semi-autonomous agency is established by a statutory provision, that organisation invariably will be managed by a Board. Every Board has a life which will be provided for in the law creating it.
"The new drafting mechanism which I have seen replicating itself over and over in recent times, is that when that Board life expires, the Minister performs the function of the Board," he explained.
The former AG stated that it is self-defeating and contrary to the whole intention of establishing a semi-autonomous agency governed by an act and managed by a Board. Ministerial control of all these agencies obtained in the past, but that was changed under the People's Progressive Party (PPP).
Using the Deeds and Commercial Registry Authority as an example, Nandlall said that agency used to be under the ministerial control of the Legal Affairs Minister. That was subsequently changed by him, and an authority was created to govern the Board in accordance with the act creating it.
"When that Board expires, the Minister has to appoint another Board. These Ministers now, when the Board expires, they perform the function of the Board. So have gone back to square one and they don't seem to understand that that is the principle which informed the creation of statutory and semi-autonomous agencies in the first place," he lamented.
The former Minister rejected comments made in Parliament during the last sitting where the PPP was accused of being "control freaks," stating that it is the total opposite, because "you have the most vulgar and blatant attempt by Ministers to take control of a Board when its life expires."
Power
The outspoken PPP Member of Parliament told Guyana Times that this trend started with the current Attorney General and Legal Affairs Minister, Basil Williams, when the Deeds and Commercial Registries Authority's Board expired and the Minister refused to appoint a new governing Board.
Nandlall had filed legal proceedings at the High Court against Williams, for failing to comply with a court order, demanding that he appoint a governing Board at the Deeds and Commercial Registries Authority.
The former Minister had said that Williams had 'blatantly refused' to appoint the governing Board, which was in violation of the law. He also accused Williams of allegedly engaging in all manners of malicious manipulation in order to get rid of the people he doesn't like.
He was quoted as saying that, "Therefore, you have trumped up charges and baseless allegations being laid against people whom he wishes to destroy. This Minister is prepared to destroy reputations, destroy people's profession and destroy people's careers in order to achieve his objectives."
Nandlall recalled that on April 19, 2017, he approached the High Court and obtained an order by the High Court Judge instructing that Williams appoint the governing Board of the Authority.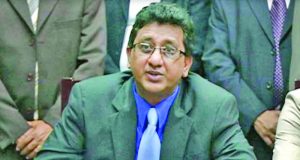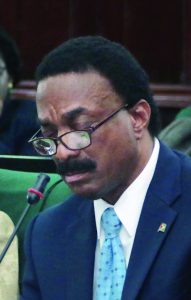 According to Nandlall, "he has refused to do so. That order was served to him by a Marshal of the High Court. In addition, my lawyers wrote him a letter enclosed with the order, demanding that he comply with it. Again, he has refused to do so. Therefore, he is in contempt of court."
The governing Board which should comprise of representatives from the Guyana Bar Association, Berbice Bar Association, the Private Sector, the Finance Ministry, Central Housing and Planning Authority (CH&PA) and a Chairman was only appointed after Williams was sued for contempt of court.
Only recently, Opposition Leader Bharrat Jagdeo, also highlighted the inconsistencies with the proposed Petroleum Commission Bill which was laid in the National Assembly by Natural Resources Minister Raphael Trotman, stating that again, the bill gives the Minister too much power.
Jagdeo had told a recent political meeting that the bill in its current form is both "oily" and "slick", and rather than being a Guyana Petroleum Commission, it appears to be more like a "Trotman Petroleum Commission".
"This bill is very oily and slick, like Trotman. They (present Government) used to criticise us that Ministers had too many powers. They want to manage the oil money after promising Sovereign Wealth Fund years now, and not coming up with (only) a draft or a model that will ensure the proper use of the money," he remarked.
Once this bill is passed and assented to by President David Granger, Trotman would be given the authority to terminate the Board of the Guyana Petroleum Commission at any time. Jagdeo said the Minister would also be granted the power to discharge the functions of the Board if the Board is not appointed.